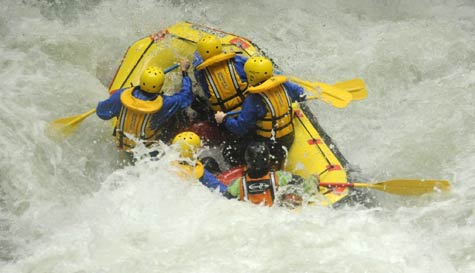 Watersports days back in blighty have you enjoying the likes of windsurfing, waterskiing and wakeboarding. That's all very well and good, but when you've taken the lads on tour, everything's got to be bigger, better and badder, right?

On our Rome watersports day, you'll be treated to a choice of not one, but two extreme watersports experiences. Hit the rapids and discover what you're made of as you avoid tricky obstacles and bomb your way through some white knuckle twists and turns.

Or if you fancy a truly physical challenge, why not choose canyoning? This is an adrenaline-pumping activity that'll see you and the lads take on a pre-determined route that'll involve swimming, rock scrambling, climbing and pool jumping. This really isn't for the faint of heart, and we should probably be including 'balls of steel' as a requirement for entry.

But if you reckon you're up to the challenge, then there are fantastic adventures to be had here. These activities are the stuff of stag legend and with constant action throughout you can guarantee that there'll never be a dull moment as you challenge yourselves to the max, whichever activity you decide to choose.

Our Rome watersports day is perfect for stags seeking adrenaline-pumping thrills on their big weekend in the Italian capital. Located a mere two hours outside the city, this epic course features amazing moments of action that'll come up in conversation for years to come. So come and have a go, if you think you're hard enough!