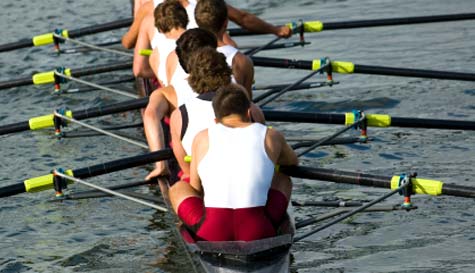 Rowing is one of the oldest water sports known to man - it's a serious test of strength, and demonstrations of rowing prowess have been the defining marks of many a manly man for centuries. Now, rowing will separate the men from the boys once and for all, as you find out who's been turning it up to eleven in the gym and who's in dire need of a membership when Father Christmas comes to town.

You'll need to be reasonably fit to claim victory here, but it's not all about the brawn in your boat. Oh no, just as a prolific toe-punter-does-not-a-David-Beckham-make, simply splashing your oars through the water isn't going to see you soaring past the competition. Luckily for you stags, you'll have expert instructors on hand at all times to teach you the best techniques so that with a bit of luck, you'll be carving through the water with ease.

Whether you're a seasoned rower or (more likely) a complete newbie to this 'sophisticated' water sport, there's big laughs to be had here and even bigger thrills. The moment teams take their places in their boats the banter will be flowing and you'll all feel the spirit of competition surging as you eagerly wait for the race to begin. At the very least, there's plenty of opportunities to get the groom soaked if he's unlucky enough to be sat behind any lad who just 'happens' to keep turning up river water in his direction.

Stag party rowing is a great activity for a group of lads looking to try something totally different from the typical activities you might get up to on your big weekend and it's a great laugh as well. Are you man enough?