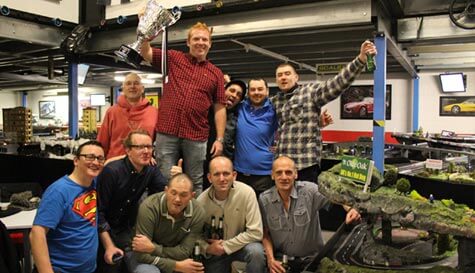 If you're looking to add some nostalgic laughs to the weekend and take the groom back to his youth, then Scalextric is definitely the way to go (and if you squeeze the trigger you go faster!). It's also a great competitive challenge all the stags can get stuck into regardless of age. You can test your driving and teamwork skills, and with state-of-the-art equipment, you'll take on the boys and battle to reach the finish line.

This great top Manchester venue has a total of seven tracks: one 119ft pro track, four massive themed Scalextric tracks ranging from four to six lanes and two Scalextric digital tracks. All of the tracks are themed and crammed full of details that you would have swapped your little sister for in a heartbeat when you were kids. There's even a vintage O gauge train that runs through two of the tracks.
The tracks are built with some nice touches such as a Formula One starting grid, false start detection, digitally recorded track placings, recorded speed, lap counting and fuel management. They all vary in complexity in order to test your skills and crown a stag champion at the end.
Definitely not your average stag do, our Scalextric challenge marks the groom and his stags out as guys who love retro, are proud to be different and think differently to the usual stag crowd. But enough of the nice stuff, it's time to get racing!
Scalextric QI
Scalextric cars were created in 1957.
To celebrate their 60th Birthday, Scalextric released a series of limited edition cakes.
Scalextric founder Bertram "Fred" Francis originally made clockwork cars using his own clockwork motor design.
He started converting his cars to electric after clockwork toys began to lose their appeal.
The first set was launched at the Harrogate International Toy Fair in 1957. Oh the glamour!
The original tracks were made of rubber.
The company was eventually bought by Hornby in 1968 who still produce Scalextric cars today.
New digital technology now allows up to 4 cars to race on a single track slot.

Over the years Scalextric have produced a number of themed cars and sets including:
Toy Story
Cars
My Sims Racing
Top Gear Powerlaps
James Bond
Le Mans 24 Hour
American Muscle cars
Batman
2012 Olympic Cyclists
Power Rangers Battle Bikes
The Derby (horse racing)
Teenage Mutant Ninja Turtles
Formula 1
Isle of Mann
Knight Rider
Truck Racing
Spider Man