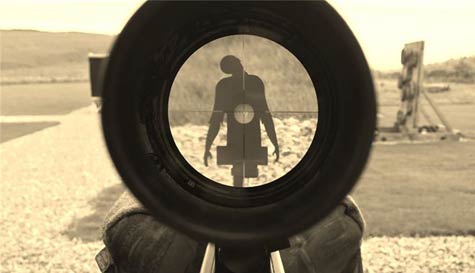 Should you ever find yourself in the middle of a zombie apocalypse it'll be good to know you can give the living dead a good kicking without suffering a zombie lovebite.

This zombie challenge package not only makes for excellent preparation for the overdue apocalypse (check The Walking Dead for details), but it is also an action-packed competitive session perfect for stags that enjoy some banter as well as a ruddy good scrap to prove their superiority over their fellow stags.

While Shaun and Ed might have relied on Dire Straits LP's and cricket bats for survival, we'll make sure you're much more prepared with a suitable armoury to ensure the undead get a little bit... well, deader.

You'll learn the art of deadly knife throwing with specially designed knives lobbed unerringly at suitable targets. You'll be able to keep the targets as a memento and also so you can keep comparing results after the event (beers to the winners, bar bills to the losers, you know the drill chaps). You'll also be given instruction on how to blow their scrambled brains out with an air rifle. Not as easy as you might think as it requires pinpoint accuracy. All the targets have a truly undead feel.

The final weaponry is the old-fashioned bow. Dating back to before the time of Agincourt Englishmen have been giving their foes a jolly good seeing to with well craft staves of elm. You'll pick up this fine tradition and aim armour-piercing arrows at the gradually failing organs to rid mankind of these unwanted pests. It's like the best game of darts ever, except "double top" has a totally different meaning.

A truly superb day, deeply competitive with plenty of laughs and banter guaranteed. Plus, with definitive winners in each and losers, you can set suitable pint penalties and rewards.