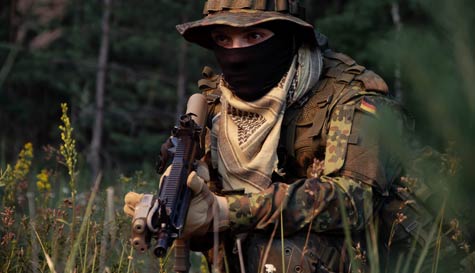 Whether you fancy the stags as lone wolves or bona fide team players, you'll all have an absolute blast at our softair centres. Relive your favourite moments from hulking 80s action movies and war films as the lads gear up and head to war feeling like Arnie and looking like Annie!
There's a reason stags enjoy running around fields and woods shooting each other and pretending they're soldiers: it's epic! Get as close to the real deal as you'd ever want to get with weapons modelled after actual AK47s, the opportunity to buy smoke grenades and combat gear for your various stag battles.

Use tactics to outwit your enemies, launching surprise attacks from grassy knolls or flanking your foes through forests. Perhaps your stags aren't all that coordinated and are more likely to try and one-man army their way to victory doing their best Rambo or Terminator impressions in an effort to stake their claims to stag supremacy? Hey, it worked in Commando so who are we to argue?

The authentically modelled weaponry makes it feel more like a genuine military mission than the clunky hoppers of paintballing and the fact that the whole battle area is themed realistically makes sure you're properly immersed for the start.
Get trigger happy with your best mates for this epic day out of running around the English countryside, shooting your fellow stags and clearly targeting the groom at every possible opportunity.
You can make things even easier by giving the groom a hi-viz jacket to wear so he "can't get lost", the fact that it makes him even easier to hit is just a lucky coincidence.