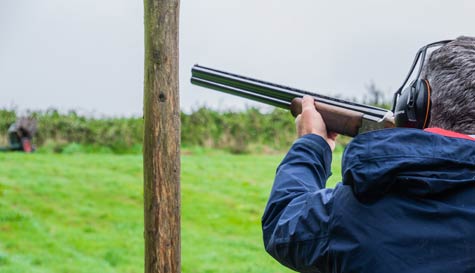 Our Southampton stag party clay pigeon shooting is a sport of pure skill, which rewards those who can keep their cool and an unflustered attitude when things are moving fast around them - so if your bunch of lads are level headed chaps (or just really like the idea of blasting things out the sky with bloody big guns), clay shooting might just be perfect for you! For most groups, 30 clays is more than enough, but if you would like to upgrade your session to include 50 clays each, that's no problem either. Ask our team for details.

This Southampton stag weekend clay shooting experience is one of the most popular activities we offer in the city and it takes place at one of the best multi-activity sites in the country. The specially designed shooting area in our 65-acre site is set within a natural woodland area. For shooting newbies the experience of squeezing the trigger, felling the huge kick of the gun and watching the target disappear in a cloud of clay dust is a massive adrenaline high.

You can also expect plenty of stag banter and awful stag gags as you'll be taking it, in turn, to shoot while the rest of the stags watch. "Oi Jack, your bang's out of order!"

Plus with so many other activities on-site you can turn it into a full-on day of complete stag sporting challenges.