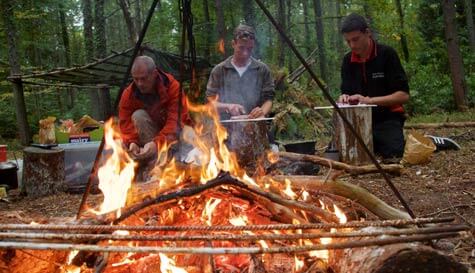 Our Southampton stag party multi activity day is like a greatest hits album of some of the most thrilling, adrenaline-pumping challenges known to stag-kind today. It's the ultimate answer to the question of whether two activities are better than one, and booking one of these packages can take your day of nearly-wed fun to the next level.
With a selection of packages available, you can choose the option most suited for your stag squad. Whether you're looking to recreate the forest battle of your Star Wars fantasies, learn awesome survival skills that'll be crucial for the groom when his missus goes away or simply go back to the stress-free times where all man cared about was swinging about in the trees.
Choose from:
High Ropes and Laser War Games...
Learn the (high) ropes...
Take to the tree tops like a hungover Tarzan.
Are you tough enough for the leap of faith?!?
After lunch you'll get kitted out in camo gear.
Ready your infra-red weapons it's time for war.
Compete in various battle scenarios...
...remember, only the victors take the spoils.
Head out into the woods.
Learn how to build shelters.
Discover crucial tracking techniques.
Cook your own lunch as an add-on.
Take on the high ropes course like true wildmen!
Canoeing and Laser War Games...
Decide who you really trust...
Climb into your canoe, try not to capsize.
Learn and try your hand at the basics.
Compete in challenges and games.
Once on dry land, lock and load in an infra-red warzone.
Carryover scores to crown the true stag champions.
For an awesome day of stag action in one of the country's most exciting challenge sites, our Southampton stag party multi-activity day can really impress. Double your activities, double your thrills, and make a legendary day of nearly-wed fun that the lads can look back at and feel proud to say "I was there".