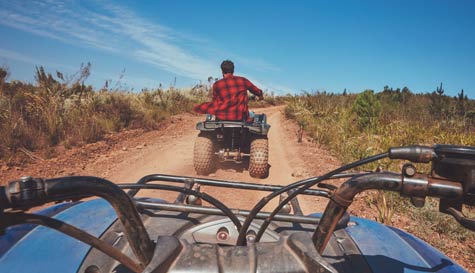 A sure-fire way to inject a mammoth-sized wedge of mechanised mayhem into any stag weekend. Quad biking is a staple of many a stag do, and with our quad bikes stag party in Southampton, you'll be treated to a highlight reel of moments that prove exactly why stags up and down the country keep coming back. After a safety briefing and an introduction to your own personal track demolition device (or 'quad bike' for short) you and the lads will embark on a huge quad biking safari where the only animals you'll see come out are the grunting bikes themselves as they pound through and obliterate the many types of terrain that this track offers you.

You'll have to tackle giant hills, uneven ground and woodland areas, providing plenty of chances for you to witness the groom make a complete prat out of himself by driving into a tree. All these obstacles mean that the complete off-road rider won't only have the ability to his quad like a pro at speed, but he'll also be able to slow things down and control his vehicle to achieve maximum precision, especially when the opportunity arises to absolutely drench the stag behind with a decent bit of wheel spin.

This quad biking stag party in Southampton is the complete off-road experience. You'll be pushed to your limits on an adrenaline-fuelled day sure to create plenty of hilarious moments to laugh about as you get ready for the big night ahead.