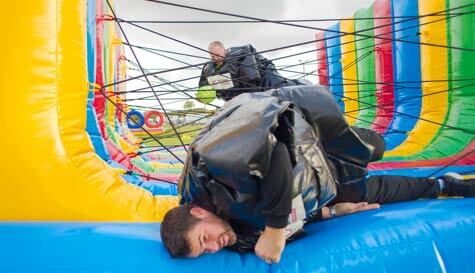 If the Olympics were ever to get drunk and decide what they really needed was a lot more inflatable events then this is probably what they'd look like!
The Stag-Lympic games is just about the craziest sporting event since Luiz Suarez turned up to a competitive eating competition. If you're serious sports fans looking for serious sports then turn away now, there's nothing to see here, 'This isn't the activity you're looking for...'. But if you're looking for an afternoon of huge laughs, the kind of sports that everyone can join in, with plenty of opportunity to stitch up the groom then this is it.
The Stag-Limpics is played against other hen and stag parties with a maximum of 16. You'll battle it out in teams of 10 players. The Limpic Arena is split into 4 zones, each zone containing a separate game. 4 teams will enter a zone and battle it out with 4pts for the winners then 3pts, 2pts, 1pt for the runners up. All the points will go into the Grand Score Master's scoreboard.
Games may include:
Giant Egg, Spoon & Sack Race
Caterpillar Archery Relay
Foot Darts
Bungee Spider Web
Dizzy Assault Course
At the end of the first session, there'll be a break and the points added up.
The second session will see the top four teams go into zone 1, the next four teams into 2, etc so all the teams get a fair chance to compete. The teams will each then compete in one final game to determine the final placings, the big prizes and of course "ETERNAL SPORTING GLORY". All we ask is that you don't bring shame on yourselves... or us! Game on.