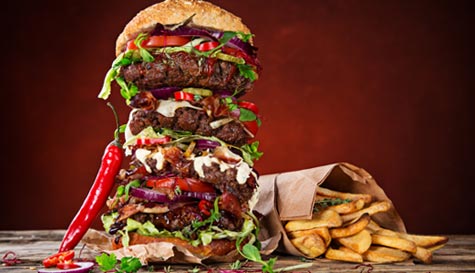 Are you man enough to take on our Stag vs. Food challenge? Only the hardiest or hungriest need apply. This is where heroes swallow hoagies whole and salads are for girls (seriously, dude, if you're going for the Caesar salad on a stag weekend you might as well just go and join the hen party!). If you love your food, have a handy pair of jeans with a stretchy waistband (or borrow a pair of your grandad's) and have an overwhelming appetite for meat, banter and ridiculous challenges then you're in luck because you can believe us, when it comes to stag tests/pranks, this bad boy is one hell of a happy meal.
There are two different types of challenges: size and heat. You could be taking on a giant amount of food, with a time limit to clear your plate. Or a chilli challenge where you could face something like fiery hot wings which are hot enough to melt the buttons from Greg Wallace's favourite cardie.
At this premier central venue, you will be treated to a total, competitive food extravaganza, where you and the lads will compete to become gut-busting stag champions.
This challenge really is food for thought for any stag who thinks they can "eat pretty much anything put in front of me". You will need stamina, determination and nerve to complete this intimidating gastronomic feat and prove you've been there, done that, won the T-shirt.
This activity is not for the faint-hearted or picky eaters as you'll need to get those mouth muscles moving in order to get through this mammoth meat-fest or chilli challenge in the allotted time. Our advice would be to get training now, boys. Then bring your stretchy pants, monogrammed cutlery and A-game to the table and put your mouth where your money is.
*PLEASE NOTE: The stag vs food challenges may differ depending on location.