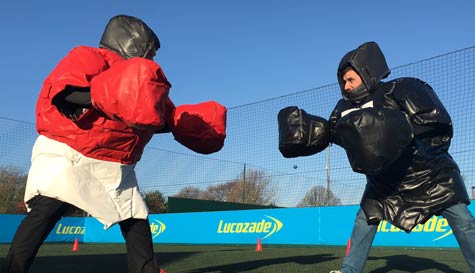 Take on the stags in full-force, fully-hilarious fat-suited sporting competition!
While the groom's probably been hitting the gym in preparation for his honeymoon, he's sure to love fatting up for this hilarious day of sporting action. The stag party sumo sports are surprisingly competitive, totally bonkers, and will more often than not have you all rolling on the floor in stitches...and we mean that quite literally.
On arrival you'll meet your instructors and referees (they'll try to keep order, but more often than not the sports will devolve into fat-suited hilarity) before getting geared up in your sumo outfits so that the games can begin.
Once all the trash-talking's done, "Dave mate, where's your suit? What do you mean you're already wearing it?" you'll take on a series of epic sporting challenges including:
Sumo Rugby Scrum - The ultimate test of fat-suited strength. Work together to topple the opposition. Remember any illegal punches thrown away from the referee's eagle eyes will be a waste of time when your opponents gut is this size.
Sumo Football Skills - Bend it like Beckham or at least like Boris as you attempt to show your Ronaldinho-level skills with a football when you're the size of Adebayo Akinfenwa!
Sumo Bulldog - Just like your childhood games of bulldog, except it seems like you've all put on a bit of timber since you last tried to take each other down...
Our stag party sumo sports are as hilarious to watch as they are to play as you waddle, wobble and roll your way to victory in specially designed Xtreme sumo suits. This is a one-way ticket to nearly-wed laughs and a great way to give the boys a brand new stag party experience before taking on the best of the local nightlife.
Please note: Manchester (Friday only) and Liverpool (Saturday & Sunday)