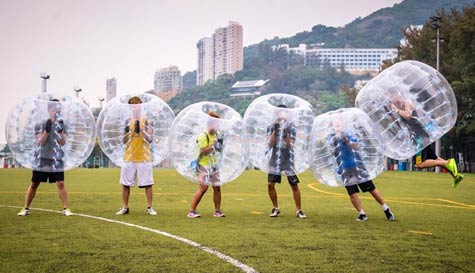 Simply put, this is the greatest sport. Ever!!
It's like football with a Mad Max twist. It's like football on (slightly drunken) steroids. It's like football if you really want to be sure that Luis Suarez can't sink his teeth into anyone. In short, our Tenerife stag party bubble football is epic!
Yes, this is the funniest version of the beautiful game ever created and it's the perfect sport for stags as it mixes, skill and competition with the opportunity to completely smash the rest of the stags to pieces without anyone getting hurt.
How does the game work?
The basic rules are the same as regular football, the twist is all the guys wear giant bubbles on their upper bodies, so while your feet can still do the amazing skill and tekkers you're known for, your upper body is pretty cumbersome and likely to be sent flying by your rivals (even your teammates) if you get too cocky. So while you still need some skill on the ball, the real aim of the game is to bash, bump and barge your opponents into submission. (this is how football used to be played in the good old days... Except they didn't have bubbles back then).
You'll never laugh so much during any sport, Tenerife bubble football is the perfect sport to really let the guys cut loose. It's also a great way to give the groom some proper stag punishment without hurting him "Not the face! Not my pretty face!"
This really is football for gladiators. Game on!