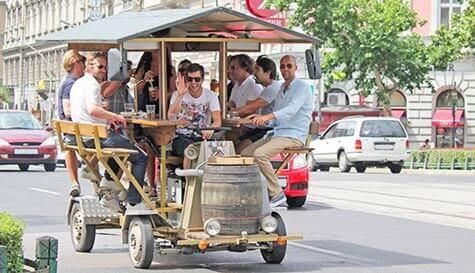 You've only got forty-eight hours to pack it all in, you want to get out and about, do something different and have a few drinks. Well, now you can have it all thanks to our superb Valencia stag party beer bike. Pour, pedal and take the pilsner out of the groom. All on your very own pedal-powered pub.
It's possibly the greatest mode of transport ever invented. If only rush hour could be this much fun. Imagine how good that commute to work would be. It's also a pretty cool form of exercise, ok, it's probably not likely to be on the training schedule of Olympians but it should be. Keeping fit and cycling while drinking booze. 'Pub-er-cize', the future of male keep fit!
The perfectly chilled beer is just what the doctor ordered and a great way to make sure all the lads are kept hydrated. You'll have complete access to the pumps so you can pour as you pedal as all the seats are actually lined up along the bar of your Valencia stag party beer bike.
Those more safety-conscious among you might not be too sure about letting the lads behind the wheel of any vehicle, let alone one serving them alcohol but there is no need to worry, the bike comes complete with a driver/barman to make sure not only are you heading in the right direction at all times but also to keep all the guys safe throughout the journey.
So prepare to stretch those legs and raise a glass on the greatest mode of transport known to stag-kind!