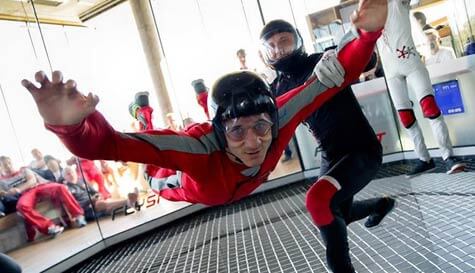 Our Warsaw stag party skydiving gives you all the thrills of skydiving without the unnecessary hassle of jumping out of a plane or making stag-shaped holes in the ground if things go wrong.
If you've always been attached to your limbs and don't want to risk losing any of them on a crazy stag adventure then this is epic fun without risking the wrath of the bride-to-be by having to tell her the groom isn't in the same number of pieces as when he left home.
You'll be kitted up in seriously cool flying suits and helmets and given a safety briefing before entering the flight chamber. Once inside you'll take flight with winds hitting speeds of up to 156mph. The resultant force will lift you up, up and wahay! This really is an adrenaline-pumping ride that is a totally different experience that none of the guys are likely to have tried before and quite simply brilliant fun that the guys will be buzzing about for days.
There's also the added laughs of seeing exactly what those high speeds gusts will do to the stags facial features. Warsaw stag party indoor skydiving really will give the guys wings and is an amazing experience of real flight minus all the risks of what happens when the chute doesn't open.
The whole session will be filmed which you'll be able to enjoy long after the event and be able to share on social media to prove that you are indeed superman.