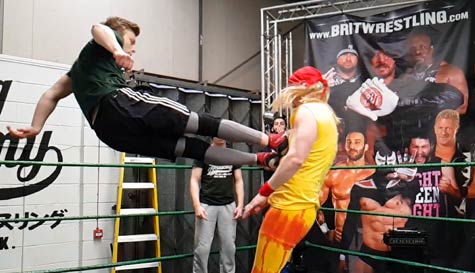 WANTED: Wrestling Test Dummy
Do you know a groom that was once a huge wrestling fan? He probably spent his Saturday mornings laying the smackdown on the family furniture but since then rarely gets the chance to show off his childhood wrasslin' skills... Until now.
It's a hilarious groom prank at one of the UK's top wrestling schools. While the groom thinks he's about to live out his WWE dreams, he's actually going to be used as a wrestling professional's dummy. The expert will use the groom's wimpy frame to demonstrate top wrestling moves, as the groom kisses the canvas. Repeatedly.
The groom will be hit with:
Bodyslams
Suplex's
Clotheslines
Dropkicks
Chops
Flying kicks
And more
The rest of the stags can watch and cheer while filming the action to be played during the best man's speech ("It's what he would've wanted.").
Royal Rumble
After the wrestler has shown the groom the mat from several different angles, he'll invite the guys into the ring to learn all the moves used by top stars.
Warm-up (squats, wall climbers, grape crushers & more)
Learn how to 'bump' or break fall
Jump from the top ropes landing safely
Practice classic WWE moves on each other
It's then time for the main event, a last man standing, Royal Rumble match, where the groom can get his own back on the best man and take his shot at being crowned 'King of the Ring'. Or will his heroic comeback be cut short?
There's only one way to find out... "Llllleeeeeeets get reaaaaaady to ruuuuuumblllle!"