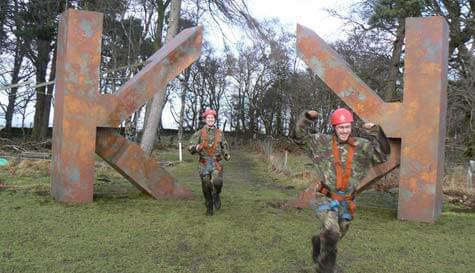 Older stags might remember the classic TV game show The Krypton Factor, but for stags born in the 90's, let us educate you. The Krypton Factor makes Total Wipeout look like a gentle stroll in the park by comparison; this is a serious challenge for real contenders only.

Today, taking on the York krypton factor assault course could be the standout event of your weekend as you take on the same adrenaline-pumping gauntlet from the infamous TV show.

Take on the iconic challenges that made so many TV wannabes crumble. This giant 900-metre course consists of 22 obstacles each more difficult than the last. Even the fittest of lads will be put to the test, if you're looking for an activity that'll separate the stags from the boys, you've definitely found it.

But if that doesn't sound enough for you (we'll assume your krypton factor is in the high 90s) add the course extension that features the seriously white knuckle zip wire challenge.

After you've refuelled with a bite to eat, you'll have to choose between taking on some rough terrain on Yamaha Grizzly quad bikes or battle the boys in stag on stag paintball action in 2km of combat-ready woodland.

This is an activity full of big thrills and even bigger laughs. You're sure to have the perfect stag day out, and who doesn't want to see the groom face plant in the mud?