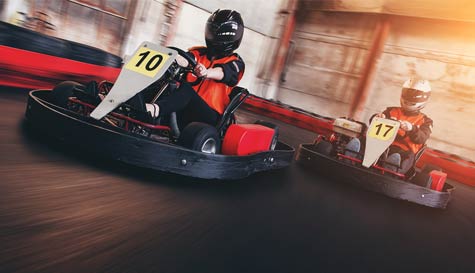 Our York stag party go karting track is one of the best tracks in the UK. 650 metres of outstanding racing surface and hard fought, wheel to wheel action. Not to mention the possibility of seeing one of the stags park it spectacularly on the tyre wall.
The site has over 42 years of racing pedigree, and a simply superb track that really will push the stags to the limit. It is also the perfect way to work off a few personal issues and leave them all over the tarmac. Whether it's the daily commute or your utterly irrational but ever present loathing of caravans and all they stand for, you can take out all your road rage in one adrenaline pumping race session.
On arrival at the York stag party go kart track, you and the guys will be given a race briefing on safety and also the rules of the race. Then you need to get into your race suits and helmets (stopping for a quick team photo of course, and we know you guys are going to make those race suits look gooooooooood!). You'll be shown the basic controls by the marshals and each stag will get a quick practice session. Then it's Go Time!
During your York stag party go karting sessions you'll be racing in teams in a team endurance race. This means you'll be getting the maximum mileage as a unit while also having to work in your teams to achieve the highest position on the leader board. And just so there can be no excuses, the karts are fitted with sensors to record complete race telemetry so you can see exactly who posted which lap times. Which will not only show who was the fastest stag, it also means you can set some brilliant stag party forfeits for the worst drivers in your group.
So start your engines and get ready for some brilliant wheel to wheel action.