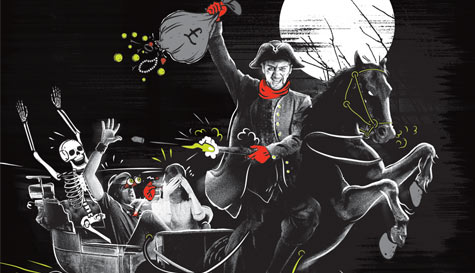 Our York dungeon stag party tour is the perfect way to give the groom a suitably uncomfortable 75 minutes where he will become the star attraction and butt of some suitably gruesome jokes and treatment.
All done in the best possible tradition of stag party humour we'll put the main man centre stage during the live-action tour featuring a cast of horrific and hilarious actors covering 2,000 years of bloodthirsty history.
Eric Bloodaxe - An axe swinging Viking who did have a band of brothers.... Until he killed them. He's not a fan of grooms either!
Dick Turpin - The much-celebrated highwayman who had an eye for the ladies.
The Judge - All those crimes against fashion over the years, it's only right the groom should stand trial and be made to pay!
The Executioner - Transported back to 1405 meet the executioner who is looking for his next customer, would we really pick on the groom again...? Yes, I do believe we would!
The Golden Fleece - Just time to stop off at the local pub, nice place, shame about the murder.
And more...
Torture, beheading, burning at the stake, last orders at the bar... All kinds of foul horrors await, led by a live cast of brilliantly inventive actors who'll interact with the stags.
Evening Tours
You can add drinks and a 2 or 3-course meal as part of your package (extra fees will apply). Tours can take place during the day or exclusive evening tours where just the members of your group will be shown the true horrors of York, and no, we don't just mean the Dog and Duck at closing time.
You'll also be given queue jump entry and a drinks package with a bottle of Smirnoff and two bottles of prosecco at one of the city's hottest clubs as part of your York Dungeon stag party tour.
This is a fantastic and riotously funny tour full of ad-libs and interaction which will have the groom begging for mercy!