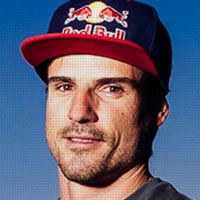 Flying 7,000 metres above the ground in sub-zero temperatures over glaciers, volcanoes and Caribbean islands… It's just a day at the office for Guinness World Record holding and 5 time World Champion paraglider Horacio Llorens Fernandez.
So just what does a man who flips 568 revolutions in a single leap have for breakfast? StagWeb spoke exclusively to Horacio about this and other high-flying matters whilst staying safely on terra firma.
How did you get involved in paragliding?
My family inspired me. My uncle Felix has been teaching paragliding since 1987, and my cousins Raul and Felix (his sons) have been my inspiration. They are legends in this sport and when I was 7 years old I wanted to be just like them and learn to fly.
Is paragliding your full time profession?
Yes. Training, competitions, shows, filming projects, conferences, etc. This is full time work, and I love it.
Where's the best place you've flown over?
Probably Pakistan. Flying over 7000m in -25ºCelsius is a big adventure, especially when you fly close to K2, second highest mountain in the world. I want to come back to Pakistan to fly again.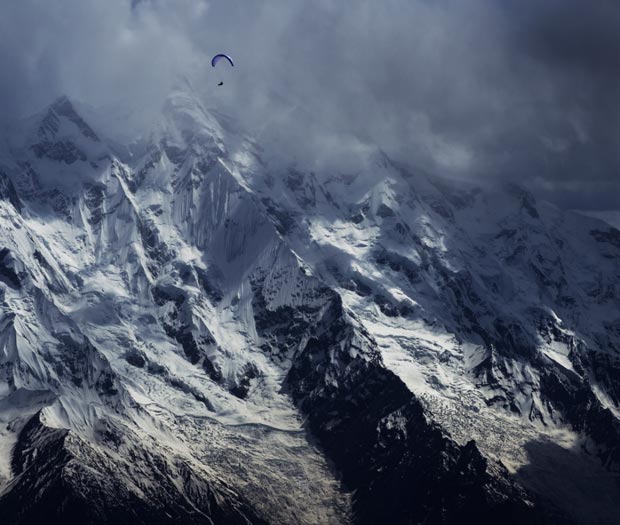 Where is the one place you've always wanted to fly?
The Rocky Mountains in USA, Mongolia or Antarctica, are countries I have not seen from my paraglider yet. I hope to do so soon.
Any bad landings/injuries?
I broke my leg when I was 18 doing a crazy landing, and my back in 2009 during a competition. This is a safe sport but sometimes you pay for expensive mistakes.
What has been the highlight of your year so far?
My trip through the Pacific Ocean with my Red Bull mate Thomas De Dorlodot. We started in Tahiti with a sailing boat, and we flew, paragliding over many of the islands we visited. In Marquesas Islands, Tuamotu, Tahiti… Places where nobody has paraglided before which made the trip very special.
How do you psyche yourself up before you jump?
Well, I don't "Jump" I take off. I am always positive when I fly. Sometimes when I am learning a new and dangerous trick, I feel fear, but it is fear that keeps me alert. It is part of my life, and I like this feeling. Fighting with your own fears is good training in my opinion.
Tell us about your Guinness World Record…
It was an amazing experience. In 2009 I achieved the World Record with 281 revolutions but in beginning of 2012 Max Marien from USA broke it doing 374 rev. And it was time for me to come back. On the 21st of December 2012 (Apocalypse Day by the Mayan calendar!?!) I broke the record again, this time it was a Guinness World Record doing 568 consecutive loops in Guatemala over Mayan ruins. It was an amazing adventure. The record still stands.
Do you have any more Guinness World Records planned?
Not at the moment.
What's your scariest moment?
In Pakistan, flying at 6,500m close to an ice wall on a huge mountain, I almost lost consciousness because my oxygen system was too low.
What's your proudest moment?
In 2012 I had to top-land over an active volcano, close to the crater in Tanzania. Even if I don't look proud, I was. A huge sandstorm was coming superfast, and I needed to land anywhere urgently. I had to spend the night over the volcano, and I took off again on the next morning. No food, no water, big time. Check this video:
Do you have any fears?
I hope not to die in a hospital. I hope to die doing what I love but of course not for many years. I have a lot to do.
Do you have a motto for life?
Better to ask forgiveness than to ask permission.
568 consecutive loops! The video is amazing but just one thing… Did you have a big breakfast that day?!?
Ha ha ha. No, but I had a big dinner.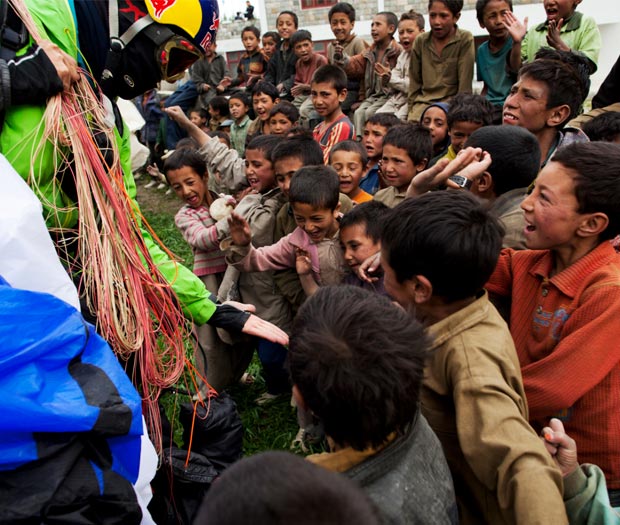 ---

---

Picture copyright
Banner image – Krystle Wright
Profile image – Elina Sirparanta
Snow faces in Pakistan – Krystle Wright
High fives – Krystle Wright