Egg-catches can 'Go West' this summer at the fantastic Yeovil Rugby 7's Tournament. Not only is this a particularly stunning area to play rugby, but tucked down in Somerset this is also great cider country (or as it's known locally egg catchers juice).
StagWeb caught up with organiser Alice Edmonds to find out just what will be happening down in Yeovil this year
When is the next Yeovil 7s?
13th & 14th June 2015.
How many teams will be attending?
We're hoping for at least 24 senior teams.
Is there more than one category?
Yes, we have men's senior, men's vets/social, women's and colts (under 18s).
How many spectators are you expecting this year?
We anticipate a minimum of 300.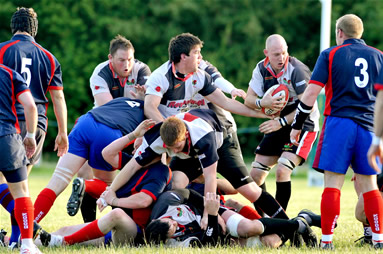 Are there any other activities or challenges for sporty guys to compete in away from the rugby?
We have a tug'o'war competition.
Great, we'll bring our heavy lads. Will there be any other side entertainment?
We'll have live bands on the Friday and Saturday night as well as a disco.
Will there be somewhere for thirsty players and spectators to enjoy a post game beverage?
Of course! We have 2 on site bars open all weekend.
And the all important food?
We have an amazing chef who's famous in the area for his curries, who will be on site cooking all weekend as well as cooked breakfasts.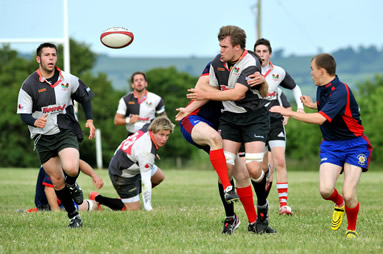 Ahhhh, as Robert Duvval said in Apocalypse Now – "I love the smell of bacon in the morning". So how many years has the event been going on for?
This is the first year.
How did the tournament come about?
We felt there was a lack of decently organised 7s competitions in the area and we also wanted to raise some money for some local charities.
And who do you fancy for the next World Cup?
I'm English so have to say England! I am keeping the faith!
What would be your top tip to spectators this year?
Book camping and bring sun cream!
And finally, what's the all important prize for the winning teams?
Pride and boasting rights! Plus a nice shinny trophy.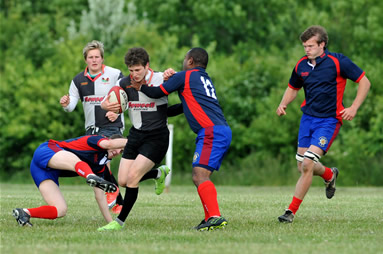 The Yeovil Rugby 7's Tournament will be taking place on the 13 & 14th of June.
"Beer and Rugby are more or less synonymous." – Chris Laidlaw
"The pub is as much a part of rugby as is the playing field." – John Dickenson
"In 1823, William Webb Ellis first picked up the ball in his arms and ran with it. And for the next 156 years forwards have been trying to work out why." – Sir Tasker Watkins
"Rugby is a good occasion for keeping thirty bullies far from the centre of the city." – Oscar Wilde
"I prefer rugby to soccer. I enjoy the violence in rugby, except when they start biting each other's ears off." – Elizabeth Taylor
"Forwards win games, backs decide by how much." – Anon