We've all been on a (slightly too messy) stag weekend, but in new thriller Bachelor Games things get crazier than expected when groom Henry, best man Leon and loyal stags Terence and Roy head deep into the mountains of Argentina where the boys get more than they bargained for. And as the movie continues it appears that this pre-wedding "hike" could be far deadlier than expected…
StagWeb recently sat down with actor Mike Noble (Roy in the film) to talk about epic stag weekends, embarrassing tunes and shooting Bachelor Games in the heat of the Argentinian desert.
Congrats on shooting what is without doubt the best bachelor party movie ever! (And we definitely know a thing or two about stag weekends) it looks like it was a blast to film, did you have as many laughs on set as the audience do?
Thanks! We certainly did have many laughs on and off set. We became a little gang, stuck for days at a time in the absolute middle of nowhere and it became a little bit like we were living the film. There was definitely cabin fever at points but we laughed (and drank) our way through it. It was like a seven-week stag party if you can imagine that!
The film is about a stag do gone horribly wrong, but what's the best stag do you've ever been on?
I went to a stag party in Berlin last year where things got pretty out of hand on the first night. We all met up the next day for breakfast and somebody mentions the point the night before where we had been CS gassed. My response was, "f*ck off, that never happened". Turned out we'd been walking through town and accidentally wandered into the middle of a huge street brawl where one of the rival groups had whipped out a CS gas canister. Cue our entire group choking, spitting and vomming and yet I still to this day have absolutely no memory of it. I think that constitutes a great stag night, right?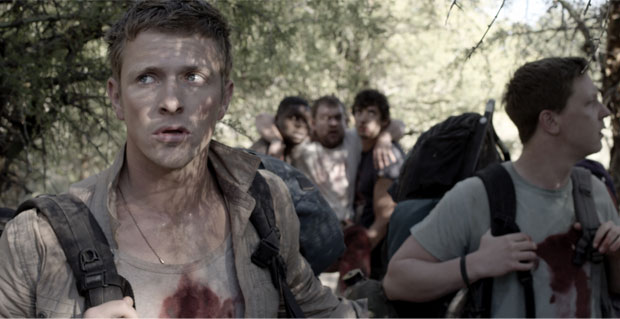 Did you guys pull any pranks on each other during filming? (unless it involves a mankini, no one wants to hear those stories!)
I don't remember any particular prank but I remember the day we realised our director Ed McGowan had an uncanny resemblance to Woody from Toy Story. He would wear this massive cowboy hat to protect him from the desert sun. The cowboy boots and check shirts I don't think had such practical reasons, but he would go legging it between the camera, the actors, his monitor in this mad rag doll manner and once we got on to it we would all be shouting "There's a snake in my boots!" every time he started running. Yeah we took the p*ss out of him pretty badly for that.
How did the cast relax away from the set?
Malbec and fillet steaks. We were shooting in Cafayate in North Argentina so there was only one way really…
You got to film in Argentina, but what's your dream stag weekend location?
Somewhere remote, off the beaten track. I couldn't be doing with some boring foreign strip full of other stag parties. Not too unlike the film actually, I think I would be after a bit of wilderness, a bit of adventure.
We won't say if your character survives in the movie or not (non-spoiler alert), but what's the most dangerous thing you've done on a stag weekend?
Agreeing to go in the first place, you're playing with fire. I think I've come pretty close to liver damage on a few.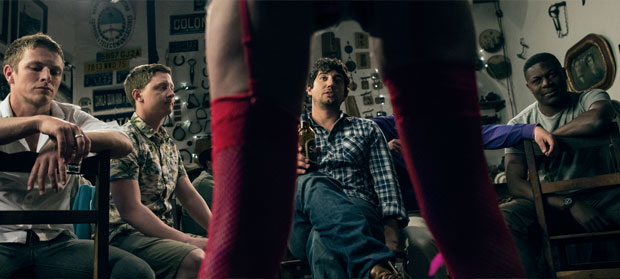 What's scarier, The Bachelor Games or getting married?
I'm going to say The Bachelor Games obviously. Because my girlfriend might read this.
It's fair to say the guys make a few mistakes in the movie but what should no man ever do on a bachelor party?
Go bowling. That's what we had arranged on a stag I went on recently. You shouldn't be sober enough to throw a ball straight at any point on a stag weekend. And I wasn't, my team were absolutely fuming at me. And I'm pretty sure I managed to throw the ball backwards a couple of times, it was dangerous.
All good weekends need an anthem, was there a song you played a lot during filming?
One morning on set I stole the walkie talkie of an AD and started broadcasting my own radio station on one of the channels. I think the Arctic Monkey's "R U Mine?" featured pretty heavily, if not just on repeat. Yeah it was a short lived DJ career.
What's the one thing on your iPod you wouldn't want anyone to see (we won't tell anyone, honest)?
I'm not embarrassed of anything on there because unlike my character in the film, Roy, I'm incredibly cool. Okay I'm having a look through now and there is a bit of Blink 182 and Green Day that I probably wouldn't want anybody seeing over my shoulder on the tube. It's just for nostalgia. Honest!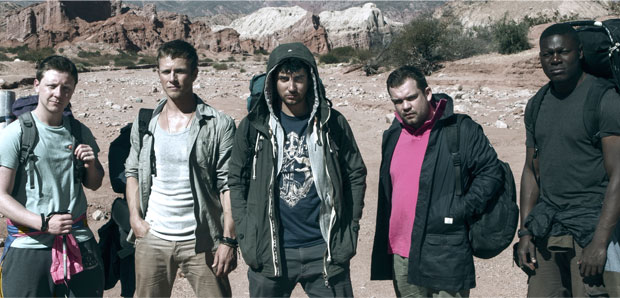 Having lived through The Bachelor Games what's the one piece of advice you'd give stag parties?
Try not to make it seven weeks long, that's kind of taking the p*ss.
What's your next project?
I'm filming on Clio Barnard's new film 'Dark River' which couldn't really be much more different from 'Bachelor Games'. And I have a film coming out for Netflix later this year called 'Siege of Jadotville', also about a bunch of lads holed up in the desert. Only in this one they're at war so, similar, only maybe less blood.
And if you could sum up The Bachelor Games in three words?
ROY'S COOL O.K? or Argentina? No thanks.
Bachelor Games is out now and available to buy on the iTunes store. Facebook and Twitter.