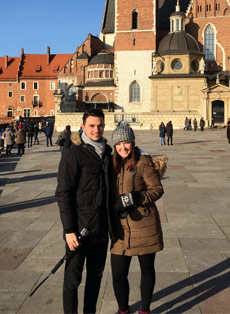 What happens when you send two of StagWeb's finest on a fact-finding mission to write the definitive 'Stag Party Guide to Krakow'?
Well the finest weren't available so we sent Jay and Alice instead with strict instructions not to let Jay anywhere near a gun. Despite deviating from the plan, they managed to find AK47s, napalm vodka and a restaurant where they pump the beer to your table!
Jay & Alice's Stag Party Guide to Krakow
Best bar for stag laughs?
"He shoots… he scores!" If you like shots (and this is a stag do so it's unthinkable not to have a shoot-out) then head to Pijalnia Wódki i Piwa (which translates as 'Pijalnia Vodka & Tapas'). Poland is famed for it's vodka and Pijalnia has a seriously impressive selection as well as other unpronounceable brews. The tapas is great but the deciding factor has to be that its name sounds like 'pyjamas' which could be the groom's dress code for the evening?!? #evilgenius
Best sports bar?
If the groom is the kind of guy who gets home sick just going to a different supermarket then he'll appreciate the Bull Pub. It's a Polish take on an English boozer but mostly it's a great sports bar with big screen TVs, good pints and decent no frill stag food.
Best local poison?
Vodka. Neat. And lots of it. The Polish are fanatical about their vodka and it truly is a thing of beauty (that really hits you between the eyes or could be used as a good rust remover back home). If you're a beer man the local brew is Tyskie and it's a pretty good pint but can get a bit gassy after a while.

Bar Tips
Polish measures are 40ml so go easy on the shots, you've a long night ahead of you. Wine and spirits tend to be more expensive unless you stick to the local drinks which are really cheap.
Best nightlife
There are basically three areas to party in;
Main Square – This is a nice place for an afternoon refresher but it's a tourist trap and prices are more expensive so possibly one to avoid in the evening.
Old Town – This is where you'll find the best of the action. Small trendy bars, good music and plenty of strange local drinks to sample.
Jewish District – Popular with students and hipsters the Jewish District has a younger feel and cheap drinks.
Best local food?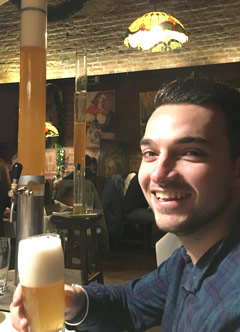 CK Browar. Superb local food with plenty of meat dishes plus it's a brewery pub. The tap heads are connected from the tanks via a tube direct to your table so you can pour your own pints which really is as cool as it sounds. There is also soup that comes in a bread bowl which weirdly looks exactly like a boob. Being the grown up I am I ordered two naturally (well the table would have looked lopsided!).
You can also use the private dining room with a bit of sexy female entertainment. Ask our team for more details.
Best local dish?
We had the roast boar which was superb.
StagWeb Meal Deal
Get our amazing meal deal, main course, beer tube and a tabasco, vodka and cranberry shot each. Call our team on 01225 474200 for more details…
Best 'man grub'?
Sausages are a big deal in Krakow and something of a local speciality. There's lots of different types of sausage to try but some of the pickles can be a bit, I don't want to appear cruel but the word 'rancid' springs to mind.
Best way to get about the city?
Everything in the city centre is within easy walking distance which makes a pub crawl easy to plan (or book a Guided Bar Crawl). If you're heading out and about during the day then trams are cheaper and a lot more fun that taxis.
Best money saving tips?
Head to the Jewish District and order zapienkanki a Polish delicacy which is a cross between a pizza and an open sandwich. They're really cheap, really filling and bloody tasty. Good way to line the stomach before 'the ale doth flow'.
Drinks and food are mega cheap in Krakow. In fact get a good flight deal and our amazing activity packages make Krakow one of the best value stag destinations ever!
Best Activities?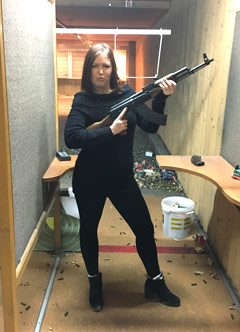 "Say 'hello' to my leetle friend!" Yes, somebody didn't get the memo from our office and actually handed me a Kalashnikov rifle to fire. EPIC! Seriously, one of the most awesome stag activities I've experienced (and I do them for a living!). AK47 Shooting, so much fire power, SO much fun!
Bubble Football is also another great recent addition to Krakow and if you've haven't played it yet then you're in for a treat.
Go Karting, admittedly I'm pretty rubbish at it but in my defence the track is really tough and the karts extremely powerful… OK, even I'll admit I'm starting to sound like a girl.
Best Krakow advice?
Krakow can be really cheap which means you get so much more action for your money. But beware, the local vodka is like brain napalm, go easy or you'll wake up sitting in a forest, with a Polish traffic cone on you head and your trousers decorating as statue back in Main Square.
Anything to declare?
Despite my best attempts I was beaten by the vodka, well to be exact I was beaten by the fact that we met one of our stag parties out there and they insisted on toasting everything that moved. But it wasn't just the pace, Alice partied like a pro and while I wimped out and moved onto soft drinks she kept up the StagWeb reputation by out thinking and out drinking all comers. Especially me.
I'll leave my Man Card at the door and see myself out…
Jay and Alice were on a fact-finding mission to produce this Stag Guide to Krakow. We'd like to point out that no sausages were harmed in the making of this blog. Which helped balance out the vodka consumption.
Become a stag legend and start planning your Krakow stag do today!