South West
Return of the Empire – Moor Beer Company
ABV – 5.7%
Tasting Notes – Light caramel malts, honeydew melon and English fruits.
Drink it when… Watching the footy. Eng-er-laaaand, Engerland, Engerland, la-la…
The empire strikes back! Moor Beer's Return of the Empire is a bold and brave attempt to show the rest of the world's IPA's that our British brews are the original and best. And boy do they succeed. This beer is English summertime in can form. Packed with rich caramel malts and tastes of traditionally English fruits like citrus, apricot and peach, as well as the slightly exotic twist of honeydew melon, adding a cool, refreshing citrus finish. Bottoms up, chaps.
---
Colossus – Beerd Brewery
ABV – 7.4%
Tasting Notes – Notes of mango and citrus fruits with blood orange bitterness.
Drink it when… Wondering if you'll ever find a beer of truly mythical status.
Bristol's Beerd Brewery are creative. They're beers brewed with grapefruits creative. They're stouts blended with coconuts creative. They're brews named after Miley Cyrus (Midly Cyrus – brilliant) creative. And the Colossus is yet another gargantuan brewing feat from this truly epic house of beer. Grapefruit and blood orange notes add a burst of citrus to the finish, while Mosaic and Calypso hops bring aromas of mango to a brew steeped in myth and legend. Gert lush!
---
Heisenberg's Double Decoction Doppelbock – Electric Bear Brewing
ABV – 9.1%
Tasting Notes – Citrus and pine scents, orange tastes and a sweet finish with a kick.
Drink it when… It's time to cook!… At the BBQ.
"Say my name" …. "Now say it backwards". Imagined by our hometown brewing heroes at Electric Bear Brewing, Heisenberg's Double… You know what, just read the title again… Is a must-try brew whether you're a diehard fan of Breaking Bad or you wouldn't know your Los Pollos Hermanos from your KFC. As Walter White has said many times, "It's all in the chemistry", and this traditionally German lager has that side of the brewing process locked down, coming in at a door-knocking 9.1%. Which is a purity that we're sure Heisenberg himself would be proud of.
Website | Facebook | Twitter | Instagram
---

---
Independence – Bristol Beer Factory
ABV – 4.6%
Tasting Notes – Hoppy character, tropical fruit aromas balanced with malts.
Drink it when… It's the 4th of July. Happy "Get the hell out of America Day" everybody!
Bristol Beer Factory are honouring the city's surprising links with the land of the free (John Cabot set sail from Bristol, helping to discover America in 1497) by producing Independence, a delicious American style pale ale, perfect for toasting our cousins across the pond as we celebrate being well rid of a certain individual (with a second name that may/may not rhyme with "Dump"). It's a hop-centric brew with no fewer than five different variants, while Maris Otter, Crystal, Cara Amber and Wheat malts grant Independence its effortless, balanced taste.
Website | Facebook | Twitter | Instagram
---
Imperial Milk Stout Hard Shake – Wiper and True
ABV – 10.0%
Tasting Notes – Chocolate malts and vanilla-based dark beer, with cacao nibs.
Drink it when… A Frijj milkshake just won't cut it.
Hard. Shake. Two words that should warn you of this brew's potency. And indeed, this Imperial Milk Stout is potent at a hair-raising 10% ABV. But this is no quick boozy fix for after-work-drinks. This is long, lasting drinking that you're meant to take your time with. Savouring the rich, complex taste of chocolate malts, vanilla notes and, of course, the milkshake style texture. It's practically dessert in a 330ml bottle, and we absolutely love it.
Website | Facebook | Twitter | Instagram
---
Supernatural – New Bristol Brewery
ABV – 7.5%
Tasting Notes – Complex malt flavours, balanced well with tropical fruit notes.
Drink it when… In the midst of a horror movie marathon (you might need a drink to get through Saw IV)
Merlin's beard! There's genuinely something Supernatural about this deep, complex beer from the ever-innovative New Bristol Brewery. We can't decide whether it's the stiff alcohol content of 7.5% ABV. The rich malt flavours, or the citrussy notes of the Amarillo and Citra hops used late in the brewing process. And in many ways, it doesn't matter. Lose yourself in the mystery of this superb brew and thank the beer boffins at New Bristol Brewery for making such an excellent craft brew.
Facebook | Twitter | Instagram
---
Porthleven – Skinners Brewery
ABV – 4.8%
Tasting Notes – Malted barley and wheat, with Citra, Mount Hood and Northdown hops.
Drink it when… Knackered from a long day of surfing action, dude!
Named after one of Cornwall's most famous surfing spots, Porthleven is laid-back drinking perfect for rehydrating after a long day chasing waves. The superbly talented Cornish brewers at Skinners laced this brew with Citra, Mount Hood and Northdown hops, which, translated for any craft beer virgins reading this, gives this beer a zesty edge that tastes like lemon and lime. If that sounds delicious, well, that's because it is.
Website | Facebook | Twitter | Instagram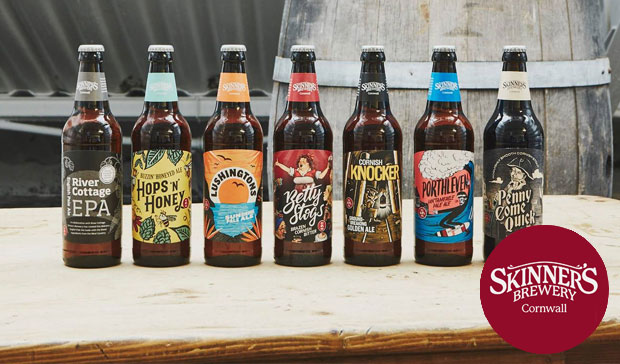 ---
Yadokai – The Wild Beer Company
ABV – 13.0%
Tasting Notes – Sake-inspired beer brewed with sea buckthorn, sea salt, seaweed & yuzu
Drink it when… Badly imitating Crouching Tiger, Hidden Dragon or House of Flying Daggers.
The Yadokai is a supernatural, mischievous creature of Japanese folklore, resurrected in beer form over the course of 2 years by the mad scientist brewers at Bristol's Wild Beer Company. This sake-inspired brew is not to be trifled with, with an alcohol content that's higher than most wines. But at the same time, it's well worth allowing yourself to be drawn in by its allure, with tastes of seaweed, sea salt and citrussy notes of yuzu creating a unique tasting bottle that you'll never experience again. Truly phenomenal stuff.
Website | Facebook | Twitter | Instagram