It's a strange thing, despite the fact that he's about to rip your unblemished character to shreds with a speech packed full of comedy insults, you're actually giving the guy a best man gift. Such is the dichotomy of having a best man, he's the guy you most trust in the world so by default he gets to do the most damage he possibly can to your reputation in front of all your nearest and dearest.
But seeing as you can't give him a gagging order, you need to come up with something else, nothing as lame as a 'Best Man' pint glass (DULL!) or a pair of best man socks (the nan of all presents). So here's our rundown of the 19 cool man gifts for 2019.
Best Man Gifts 2019
Hip Flask – Swig
Every man should own a hip flask, but sadly not every man gets to own one as achingly cool as those produced by Swig. Hip flasks are practical, trendy and they hold booze, it's the perfect triumvirate of best man gifts and with Swig you even get a smart gift box and can get it engraved with a fitting message/insult.
---
Pocket Watch – Dalvey
If your best man fancies himself as a sharply dressed man, known to sport a fine waistcoat, then he needs a pocket watch to finish the look. There is nowhere a pocket watch doesn't look cool, (OK, swimming pools perhaps, but other than that they look great and Dalvey have a stunning range of pocket watches and other funky man gifts.
---
Whisky Glass – Norlan
Norlan are the Rolls Royce whisky glasses, the glass all others are measured against and they are indeed a thing of manly beauty. Mixing great style with genius design to heighten the nose of your favourite single malt, Norlan glasses feel fantastic in your hand. And when you see a man holding a Norlan glass you know not only is he a man of great taste, but he means business!
---
Wooden Watch – WoodWatch
While you've always mocked his dress sense, begrudgingly you know he always looks good. Here's something he might not have in his 'best dressed armoury' – an uber cool timepiece from the fine folks at WoodWatch. Watches. Made of wood! They are every bit as great as they sound and the finishing touch to any outfit.
---
How To Be A Footballer – Peter Crouch
Peter Crouch, the most underrated striker ever to pull on an England shirt (we're still campaigning for him to be in the next World Cup squad!) and now it turns out one of the UK's greatest football writers. His hilarious peek into the world of professional football is an ideal gift for any best man who loves the beautiful game.
---
Knife – Bushcraft Store
Camping, cooking, fishing, sharpening pencils, trimming nasal hair, there are so many uses for a proper knife. Every toolbox should have a proper blade in it, and it's the one thing that could keep him alive when the zombie apocalypse happens. The Bushcraft Store have a wide selection of folding, hunting, multitools and Bushcraft knives for every slicing emergency.
---
Personalised Whisky – The Whisky Shop
You can take his favourite tipple to a whole new level by presenting him with his very own personalised whisky. Available from The Whisky Shop who won't just slap on a label but also engrave the bottle to your specifications. It's sure to take centre place in his drinks cabinet or casually left out for visitors to comment on.
---
Beer Crate – Crates 4 You
This is a present so manly it'll arm-wrestle a bear while cooking you a BBQ. It also looks the mutt's sphericals! You can personalise your best man gift by adding his name and hometown. Even if his taste in beer is as bad as his taste in football teams and dodgy shirts, at least now you can make his beer look better by hiding them in a funky crate.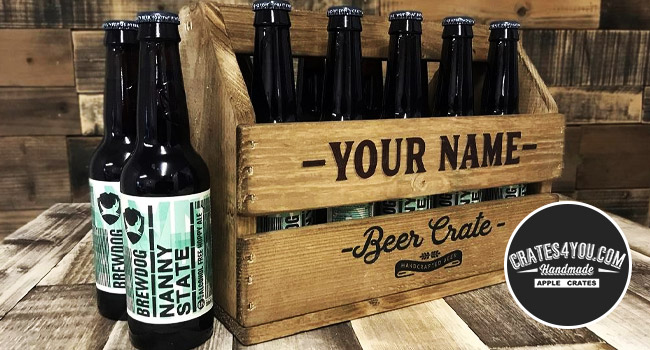 ---

---
Chillies – Wiltshire Chilli Farm
If your wingman has a taste for hot sauce, then this is the obvious choice. Wiltshire Chilli Farm is the daddy of the UK chilli world! If you are lucky enough to run into them at a festival or food event, there's nothing these guys don't know about chilli and they have the most amazing range to create the perfect eye-watering best man gift.
---
Beer Gift Set – Best Of British Beer
If ever we were to elope, run off and marry a website, this would be the one! The website of every man's beer-filled dreams it's the perfect shopping stop to find the ideal best man gift for your former partner in pints. No matter what crazy, beer-soaked gift idea you dream up, the chances are these guys already stock it.
---
Whisky Set – Kitchen Gift Co
Make sure the best man never drinks alone with this great looking gift set from the Kitchen Gift Company. Presented in a wooden gift box, the set contains two hand blown rocking whisky glasses which allows the glass to roll and release the aromas. There's also tongs and granite stones so that you'll never need to water that drink down again.
---
Gift Hamper – Handpicked Hampers
Beer, nuts, popcorn, pork crackling, cheese, cider, you can take all your BMF's favourite things and have them placed into a retro-looking gift hamper. Not only does it look impressive, once open it'll taste amazing as Handpicked Hampers use the very best ingredients and suppliers to create bespoke, artisan flavour packed gits.
---
Man Crate – Plantabox
Crates look cool. Put them in a setting, put anything in them, they are a robust manly way to keep any 'stuff'. Plantabox.co.uk have created bespoke man crates tailored to suit your needs: BBQ kits, vinyl collections, football programmes, growing chillies, in fact, there's literally nothing you can't do with these versatile storage units.
---
Bacon – Snaffling Pig
Mmmmmmm, bacon. The ultimate man-snack. We'd go so far as to say there's no meeting of mates that can't be improved by the addition of bacon. Now the piggin' geniuses at Snaffling Pig have created a whole host of bacon-based gifts, gift sets, cookbooks, snack packs, beer, sauces and even streaky subscriptions. Pig-tastic!!
---

---
BBQ Kit – Prezzy Box
It doesn't matter how good your BBQ skills are, as a man what really matters is how good your BBQ set up is. That's why a funky BBQ gift set from Prezzybox.xo.uk could set your best man up for life. BBQ toolboxes, personalised tools, cookbooks, aprons, even a BBQ suitcase, this is some serious cooking kit!
---
Sunglasses – Fresh For Pandas
Unless you're riding a killer whale while reciting Beatles lyrics to a cheerleader, sunglasses are the pinnacle of cool. Everyone looks cooler in sunglasses, even your hapless best man. But you can take his chill factor to another level with these awesome wooden sunglasses from Fresh For Panda. They're also eco-friendly. Win/win!
---
Personalised Beer – I Just Love It
Beer, we're big fans of the stuff. And now the clever guys at Ijustloveit.co.uk have made it personal by adding customisable labels, with a little creativity you can give him his own specially named brew with hidden insult. Because that's what friends are for. Easy to use service and super quick delivery.
---
Beard Care Kit – Mo Bros
Admittedly you can't do much about his nose or beady eyes, you can't fix his teeth or doing anything about his weird looking smile, but thanks to Mo Bros you can at least help him tame that face fuzz with the finest of beard grooming kits. Everything he could need in one brilliant looking gift box. Sorted.
---
Beer Subscription – Beer 52
Looking for a beer flavoured gift that just keeps on giving, Beer 52 have the ideal service on tap. Each month he'll get a delivery of craft beers, he then gets to enjoy said beers in the comfort of his own home, he can even earn reward points by rating and reviewing the beers online. A genius solution to your best man gift dilemma.
---