You can keep your whoppers and your golden arches, we've been on the prowl for the best burger joints on this fine island looking for the biggest, baddest and dirtiest bites to satisfy our hefty cravings.
Scouring Blighty, we stumbled across some awesome eateries and returned to gems we'd unearthed last year because their burger game is still as fiery as their flamin' hot grill pans. So, scrap your dinner plans, put on those elasticated trousers and join the burger extravaganza as we bring you the UK's 40 Most Badass Burgers of 2019.
South East & London
Big Boys Fine Burger Co.

35 The Old High Street, Folkestone, Kent, CT20 1RL
When you're on the hunt for the best burgers in the UK, you don't want to be served pretentiously small portions, you want man-sized meals which would use up three months' worth of Weight Watcher points in one sitting. The bigger, the meatier, the juicier the better and the guys at Big Boys Fine Burger Co. tick all the boxes putting on an almost unrivalled burger-eating experience. Regularly up for awards, they do a devastating array of epic eats, you won't know where to begin!
Baddest Burger
The Fat Elvis – Burger, peanut butter, raspberry jelly, bacon jam, American cheese, lettuce, tomato.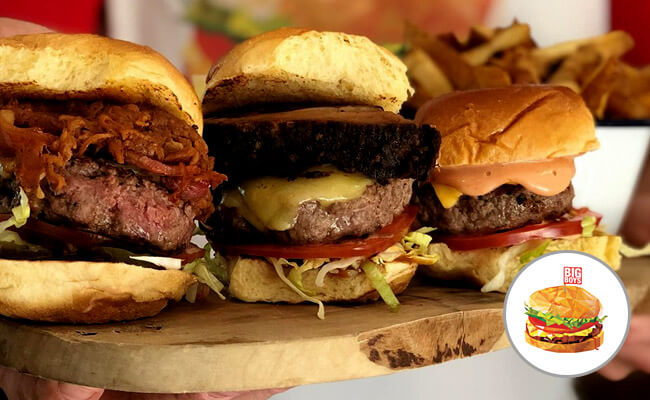 ---
Black Bear Burger

Boxpark, Shoreditch, 10 Bethnal Green Road, London, E1 6GY
"Simple, done well." An ethos far too many ignore. With a good burger, you don't need all the fancy extras. Less is more, after all, and by focusing their efforts on sourcing the best ingredients available, the folks at Black Bear Burger construct simple burgers so flavour-filled you'd be forgiven for thinking they were made from a wide range of exotic delights. Animal welfare is a high priority for them too, and they believe the better their cows are treated the better they taste. The proof is in the patty and here at StagWeb, we salute them for their ethical efforts.
Baddest Burger
Classic – Aged beef patty, steak seasoning, cheese, bacon, honey mustard mayo.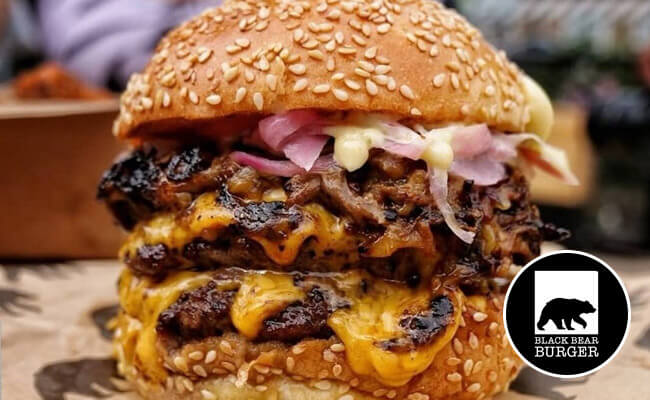 ---
Nanny Bill's

Boxpark Wembley, 18 Olympic Way, London, HA9 0JT
Nanny Bill's Instagram feed is the definition of food porn. Oozing burgers packed to the brim with beefy patties, melted cheese, sizzling bacon, gravy waterfalls, you name it! It's one of those foody places you drool over as you're tending to those sore heads on a Sunday morning. But you're going to want to find the energy to get off the sofa, ditch the blanket and bounce on out to find them. It'll be worth the effort!
Baddest Burger
The Dalston Dip – Hand-pressed beef patty, mustard glaze, American cheese, caramelised onions, Nanny Bill's burger sauce, all in a seeded brioche bun with a pot of NB's gravy on the side.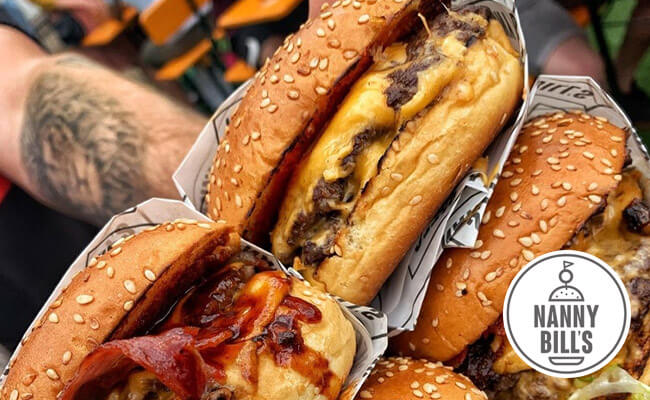 ---
Baba G's Bhangra Burger

Camden Lock Market, West Yard, Unit 215-216 Chalk Farm Road, London, NW1 8AF
Camden Market is famous for its thriving range of fantastic eateries and cosmopolitan cuisine, and it is home to one of our favourite burger joints in London Town: Baba G's Bhangra Burger. Their Indian infused burger menu is a mashup of two of the best foods in the world, brought together to change the face of the UK burger scene and we can only marvel at their genius. Each one of their Bhangra Burgers is served in a buttermilk naan-style bun with a crispy onion bhaji – our mouths are watering just thinking about it!
Baddest Burger
Crazy Lamb Jalfrezi Burger – Spiced lamb patty served with a cool mint cumin raita mango pulp and an onion salsa.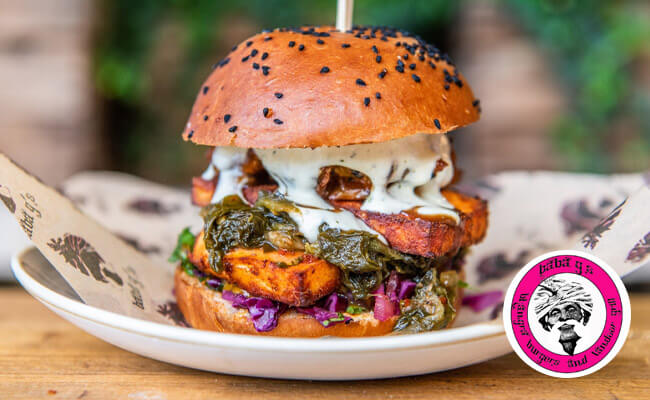 ---
Mooshies

104 Brick Lane, Spitalfields, London, E1 6RL
For most, the meat is not just an integral part of the burger, the meat IS the burger. But Mooshies, London's very own vegan burger bar, has taken this concept, roundhouse kicked it right out the door and substituted your traditional ingredients with vegan alternatives that are so damn delicious, quite frankly, it made us question everything, ever. If something as traditional as a burger can be deconstructed and rebuilt in such a magnificent fashion, what else aren't we doing?! Innovators, trailblazers, burger masters!
Baddest Burger
What's Your Beef? – Black bean and organic quinoa patty, melted vegan cheese, caramelised onions, Mooshies' burger sauce, gherkins and lettuce.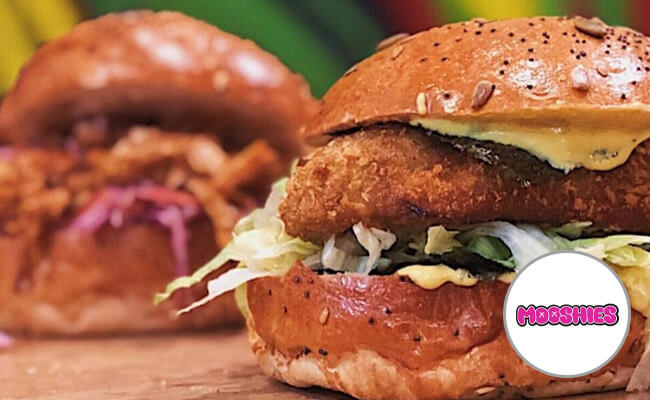 ---
Roost Restaurant & Café

Mad Cow Burger served with chips & dip.
19 Cliff Terrace, Margate, CT9 1RU
Margate, 'The Original Seaside', has been hit by the burger revolution wave which has washed over our shores in recent years and Roost Restaurant & Café has set down their marker impressively for the best burgers in town. This, as they call it, is 'street food by the sea' and they operate under the guise that food doesn't need to be overcomplicated, it just needs to hit the spot. And their burgers hit the spot harder than a bucking beach donkey.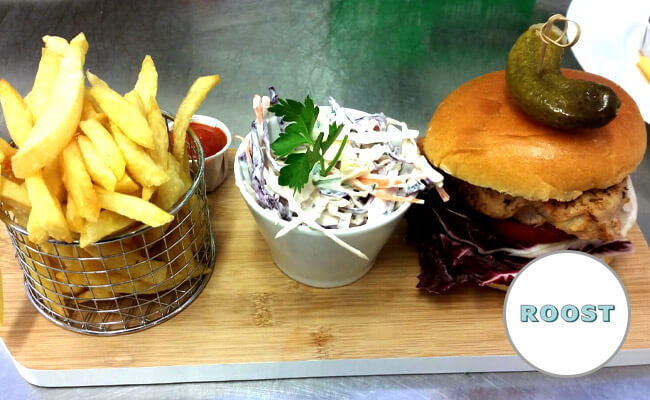 ---
BILL OR BEAK

KERB Camden Market, The West Yard, London.
Lionel Messi or Cristiano Ronaldo, Galaxy or Dairy Milk, Star Trek or Babylon 5, the sources of so much contention in the world, and now, there is one more debate to throw into the mix: Bill or Beak! Are you a slowly braised duck and pork burger kind of guy (the Bill) or are you a Szechuan fried chicken enthusiast (the Beak)? Both culinarily outstanding in their own rights, but there can only be one top dog – or top burger – in town. You decide!
Baddest Burger
Bill – Slowly braised duck and pork in a Vietnamese dressing, topped with spring onions, coriander, mint and finished off with tempura shallots in a toasted brioche bun.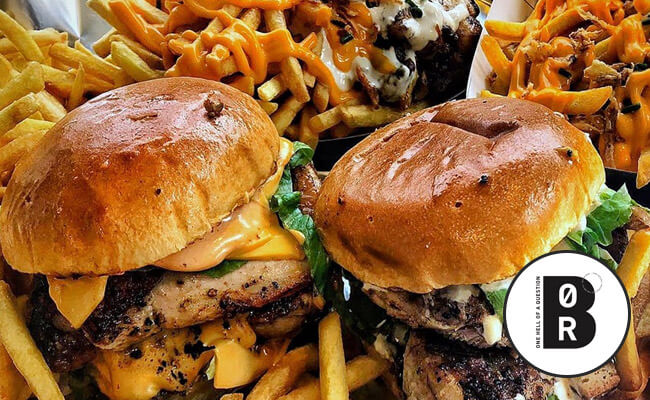 ---