Whilst the café culture is the stuff of legend, the beer-drinking scene in the Dutch capital is in a league of its own. From chilled-out canal-side venues to clog-tapping party palaces, there are bars big and small to suit all manner of tastes and preferences.
If you're jetting off to this party city for an Amsterdam stag do, don't go wasting valuable partying time pounding the pavements trying to seek out the biggest and best bars in Amsterdam, cast your eyes down our Top 10 hitlist and head to the places everyone is talking about.
Waterkant
We're getting our list off to an electrifying start with this tropical downtown bar. Boasting a sun terrace on the waterfront, it's a brilliantly relaxing place to chill out by day and, by night, the party well and truly pops off with live acts and sensational DJ sets. Expect a warm Amsterdam welcome and settle in for one of the biggest parties in the district.
📍 Marnixstraat 246, 1016 TL Amsterdam, Netherlands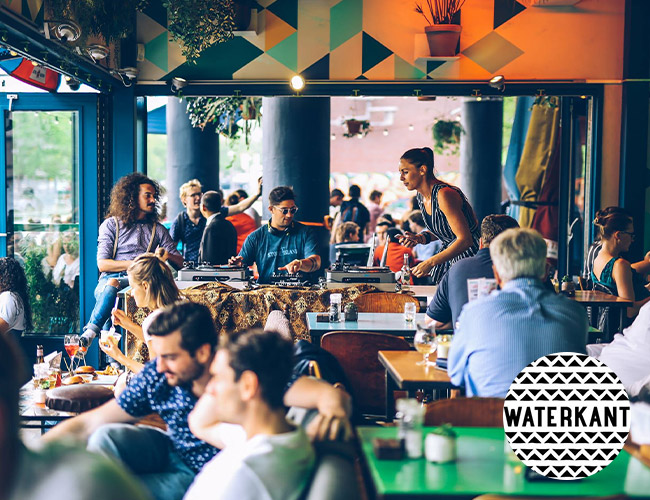 ---
The Waterhole
This live music joint has been cranking up the volume, shredding the soundwaves and busting out the bass for over twenty-five years and shows zero signs of relenting. An outrageous, alternative night on the town, pitch up and mix in with the friendly party crowd, and get down and bouncing to the big tunes that rain out.
📍 Korte Leidsedwarsstraat 49, 1017 PW Amsterdam, Netherlands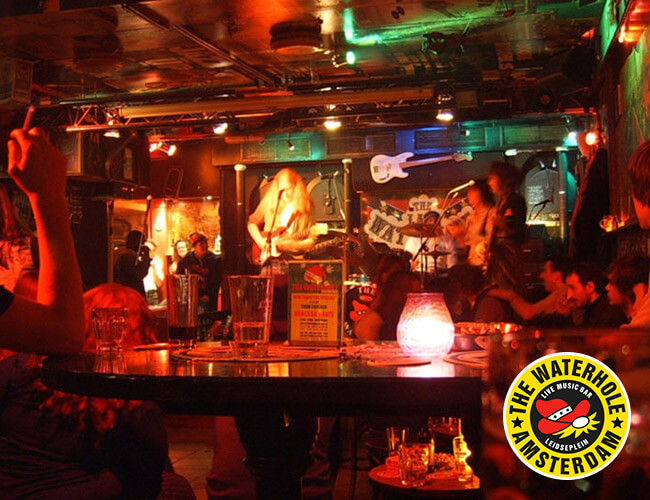 ---
Brouwerij 't IJ
This phenomenal independent brewery lies in the shadow of the tallest windmill in the city (hammering home the stereotypes), making it easy to spot from a mile off. Boasting an unrivalled array of Belgian beers and a picturesque sun terrace, you're going to want to give yourselves a fair few hours to really sink your teeth into this stupendous drinking house.
📍 Funenkade 7, 1018 AL Amsterdam, Netherlands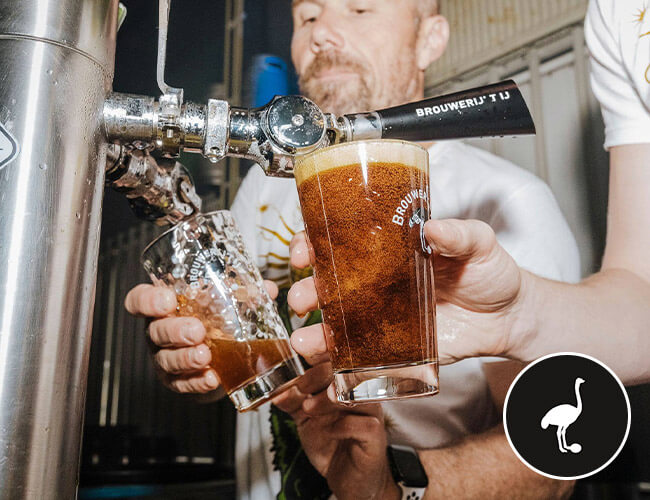 ---
Super Lyan
The brainchild of multi-award-winning bartender Ryan Chetiyawardana, aka Mr Lyan, (he's even got 'award' in his name), Super Lyan is one of the finest cocktail bars to grace this fine city. Their expertly crafted concoctions will twist your melon to the point where you may not be able to drink another cocktail again unless it's in one of Mr Lyan's mighty fine establishments. Yes, they're that special.
📍 Nieuwezijds Voorburgwal 3, 1012 RC Amsterdam, Netherlands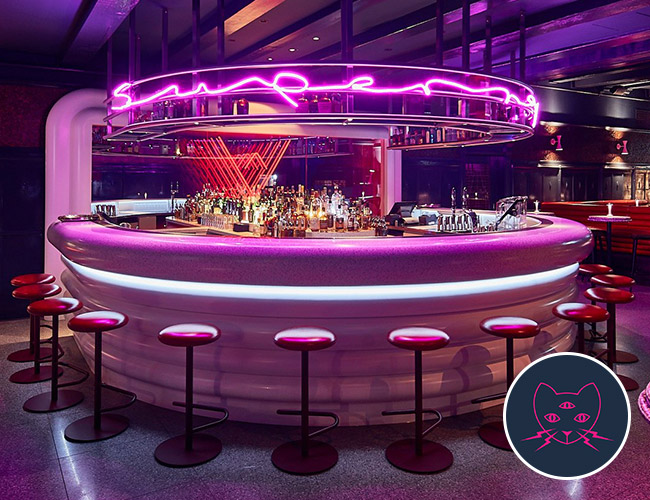 ---
TonTon Club – Centrum
Already boasting two bars in the city, and with a third on the way, TonTon are taking over. Their retro arcade and board games have proven to be a big hit with the party crowds of Amsterdam and are gobbling up the competition like PacMan and his little dots. It just so happens they know their way around a mighty fine beverage too. The complete package.
📍 Sint Annendwarsstraat 6, 1012 HC Amsterdam, Netherlands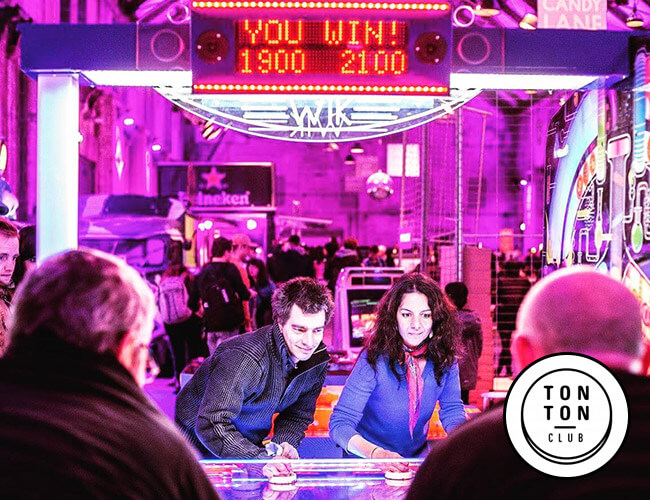 ---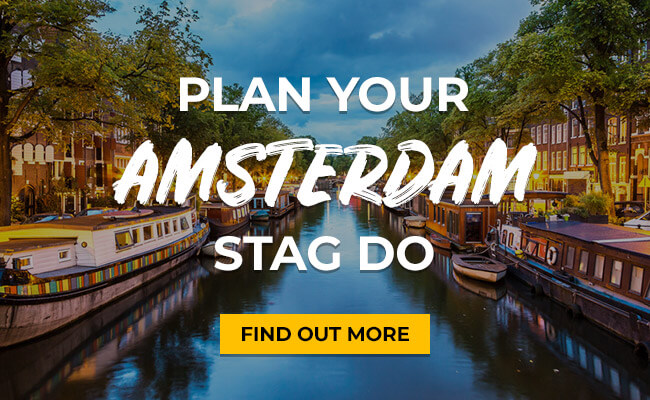 ---
Café Hoppe
Café Hoppe have been providing a welcome refreshment to the fine folks of Amsterdam since the grand old year of 1670. To have that level of longevity, they must be doing something right. And if doing something right means providing outrageously tasty beers in a fantastically authentic setting, then, yes, we can confirm they are very much doing something right.
📍 Spui 18-20, 1012 XA Amsterdam, Netherlands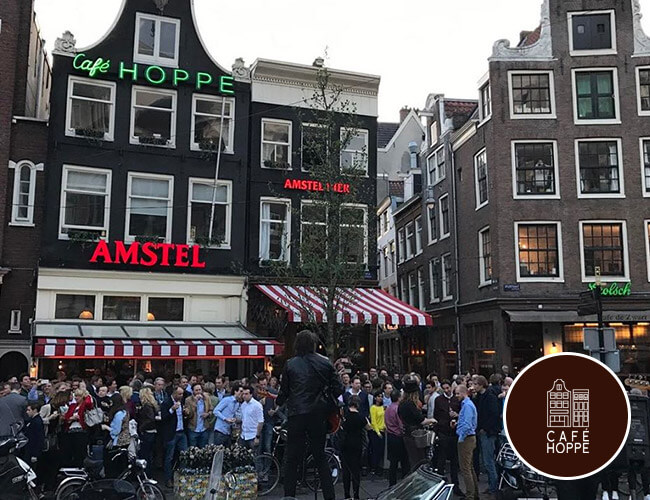 ---
Hannekes Boom
"Boom shake shake the room!" Hannekes Boom hits the spot sweeter than a Marco van Basten volley and is fast becoming more iconic than Ruud Guillit's mighty fine hairstyle. This canal-side beach hut is chilled vibes only and one of the finest spots on a heat soaked day. When the sun dips, though, the music cranks and the party begins. Alternative, quirky and seriously epic.
📍 Dijksgracht 4, 1019 BS Amsterdam, Netherlands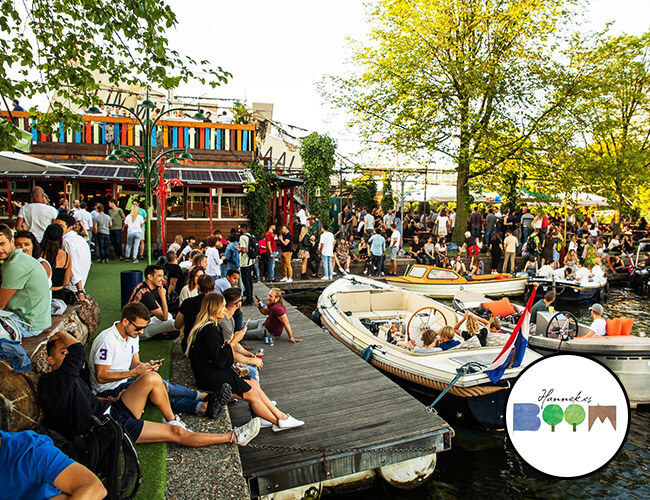 ---
5&33
5&33 oozes coolness, so much so, that it's beginning to spill out onto the streets. With incredibly elegant food available until late, this place is a sophisticated, upmarket option for your big night out. But don't be fooled into thinking the party will be reserved, it well and truly goes off! 5&33 equals 38 and that's what we're giving it out of 10!
📍 Martelaarsgracht 5, 1012 TN Amsterdam, Netherlands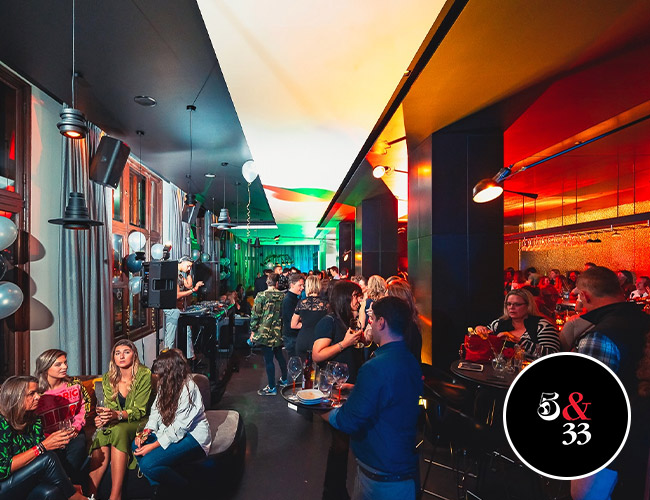 ---
SkyLounge
This is proper sightseeing. You can see all the sights in one glance from the top of this fantastic rooftop bar. Done. Check that off the list. This brilliant award-winning drinking spot offers stunning panoramic views across the city which you simply won't get anywhere else. Not just a daytime haunt, head there at night to see the 'Dam lit up and party 'til the early hours.
📍 Oosterdoksstraat 4, 1011 DK Amsterdam, Netherlands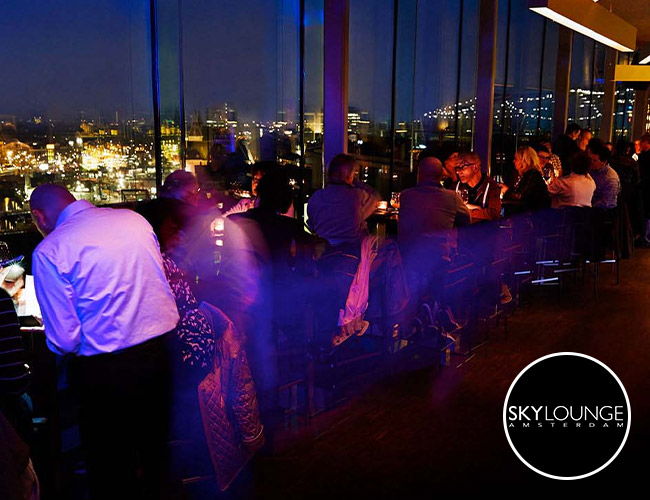 ---
Flying Dutchmen Cocktails
Unlike Dennis Bergkamp (the Non-Flying Dutchmen), this fantastic bar is soaring high above the competition and dropping flavour bombs on the city of Amsterdam. This spectacular cocktail joint boasts over 800 unique spirits meaning their cocktail list is packed full of incredible flavour combinations and unusual boozy undercurrents.
📍 Singel 460, 1017 AW Amsterdam, Netherlands