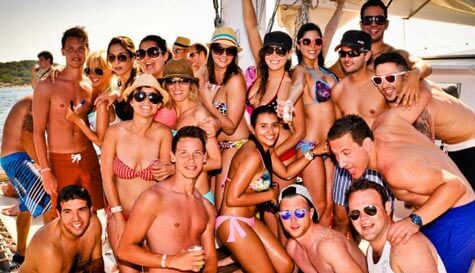 90's kids will remember that according to pop history, "there aint no party like an S-Club party". Sorry Rachel, while you're still hot you're unbelievably wrong. Because THIS is how you party!!!
Our Albufeira stag weekend party boat is truly legendary! If any man stags step aboard this amazing floating fiesta and fails to have a good time you need to check his pulse immediately and make sure he is technically still alive.
Great music, great weather, great people, great times! You'll be greeted as you board the ship and join the rest of the party crowd (there will probably be some hen parties in the mix). Once everyone is aboard, the good ship "Part A" will set sail for good times. Three hours with a live DJ, free shots, champagne sprays, this really is rock star party stuff. You can work on your wedding tans, mess about in the water, there's even a snack bar if you're feeling hungry. The world is your lobster. It's also well worth pointing out the boat has its own fully stocked bar. Well, we wouldn't want any of the guys getting dehydrated.
Live DJ
Free shots
Champagne showers
2 free drinks
Fully stocked bar
Snack bar
Swim stop
Transfer to a party bar
And it doesn't end there, at StagWeb we believe in partying without the hassle, so we'll take care of all the details. You'll be picked up and taken to the boat. Three hours of good time will ensue, once back on dry land you'll be taken to the party bar where you'll get another free drink and can continue into the small hours ("See you at breakfast!").
This is a top way to create amazing stag party memories of what could be a legendary weekend.