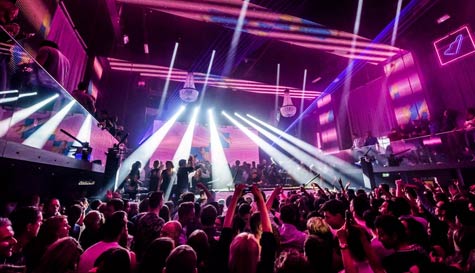 Don't waste time, fellas! This is a big weekend; you don't want to be walking the streets trying to find somewhere that can sit eighteen hungry stags at no notice. And you definitely don't want the guys getting hungry! Well, fear not, we can have it all sorted in advance plus guest list entry to one of the hottest clubs about with the epic Amsterdam Stag Do Dine & Dance.
Your table will be booked and waiting for you at this uber funky diner. There's a good selection of dishes and the meal will be pre-paid, so you won't need to mess around trying to split things once the dining is done. You and the boys will also receive a tea/coffee to re-energise you before the chaos begins!
Then, it's time to bring on the dancing girls…
You'll be taken through to the amazing club, one of the best venues in this party loving city, and like the stars you are, you'll get guest list entry.
Starters
Carpaccio - Beemster old cheese, rocket, pesto, croutons, truffle mayonnaise,
Salmon Tartar - fried egg, chive cream, lemon mayonnaise
Goat Cheese - toasted Amsterdam sugar loaf walnuts, pear compote
Tomato Soup basil foam
Mains
Chicken Satay - Javanese peanut sauce, fresh pickled vegetables, fries, prawn crackers
Pan Fried Tournedos - garlic herb butter, gravy, mushrooms, onions, fries, bread
Gilt-head Bream - roasted cherry tomatoes, pan fried spinach, white sauce
Vegetarian Pasta truffle, fungus, Parmesan cheese
Desserts
Poached pineapple honeycomb, vanilla curds, coconut, red fruit gel
Dame blanche - whipped cream, vanilla ice-cream, hot chocolate sauce