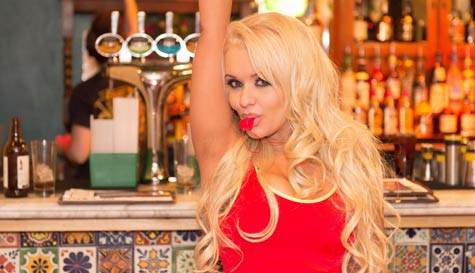 Looking to kick off the night with some big laughs? Mostly at the groom's expense ("It's what he would've wanted...")? Then contact us today to book a smoking hot Baywatch Babe to help prank the groom.
And this isn't just any 'kinda cute' girl, we're talking 'total babe'. If it's not already bad enough that the groom will be stitched up in front of the guys, but in front of this babe too... Evil stag genius!
The session will begin when you enter a pre-arranged bar, the Baywatch Babe will be waiting for you to show you to your exclusive VIP party area. Once all the guys have sat down the games will really begin. To start with the groom will be given a fancy-dress costume to wear: a fantastic Baywatch bikini! He's going to look awesome, almost as good as Pammy and certainly a lot more fun. Plus you've now got the perfect material to use against the groom on social media or to save and use as 'evidence' during your best man speech. Don't feel bad, you know he'd do it to you if he could.
Your babe (the stunning one, not the hairy, soon-to-be-married one) will be on hand to serve you drinks during two hours of fun. She'll also get some great games and competitive action going. She'll also happily pose for photos with the guys so you can record all the fun of the night.
Beer Pong
Mr & Mrs Quiz
The Hasselhoff Peg
Don't Float Your Boat
And more...
(Please note: games may vary depending on your chosen venue)
Stag nights don't get better than this: a stunning babe, great games and laughs, table drinks service, the groom in a tight-fitting bikini and photographic evidence to use against him in your best man speech.