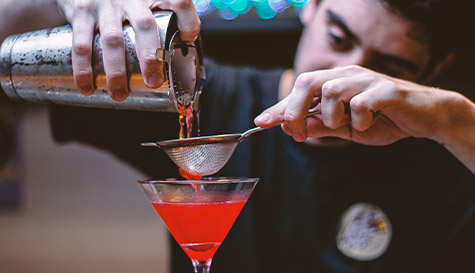 C'mon fellas, you're not in rainy Blighty anymore, get out of those dark, dingy bars and enjoy some sunshine. OK, we won't deprive you of the bars, they'll just be epic rooftop ones instead where you can enjoy some great man cocktails and see the city. The Barcelona Rooftop Cocktail Crawl is the best way to see the sights and gear up for that big night on the town.
A friendly guide will meet you at your hotel or a selected venue and lead you on a crawl through the city centre stopping off at three of the best rooftop bars. You'll then get a free cocktail in each as you chill out and gear up for the big evening ahead. Your crawl will end with you getting free access into one of Barcelona's biggest and best nightclubs so you and the boys can set it off until the early hours. It's the best way to set yourselves up for breakfast (because in Barcelona you really should party until the sun comes up).
Don't make that classic error of going to a new city and not knowing the best drinking spots, that's how you end up in those weird bars which are empty except for an old geezer, a stray dog and a one-eyed barman. With the Rooftop Cocktail Crawl, you can guarantee you'll go to some of the hottest joints about before you end up at one of the biggest parties in the town.
Conquer those hangovers the next day in proper stag style with a trip to the Waterpark, you can well and truly blast them out of the water. If that doesn't float your boat, you could always head to the beach for some sunbathing and epic Beach Games. We're talking football, we're talking volleyball and we'll even throw in some ice-cold beers for good measure.