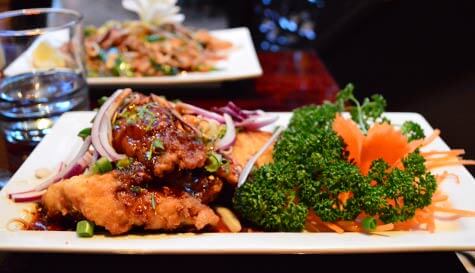 As Napoleon once said, "A stag party marches on its stomach..." Ok so we might be paraphrasing a little but it's certainly true that to avoid the lads getting fed up you need to keep them, well-fed. One thing you certainly don't want to be doing is walking from restaurant to restaurant only to be turned away as "there's no room in the inn".
Being based here in the stunning city of Bath here at StagWeb have a real advantage in knowing the very best restaurants the city has to offer. And there are few better than this superb, award-winning Thai restaurant, which is one of the city's most popular eateries. Getting a casual table here can be tricky (especially for larger groups) as it does get booked up early. To avoid hungry/angry looks from the guys we'll get everything booked up for you in advance, we'll even make sure the grub is paid for so all you need to do is turn up, sit down and tuck in.
The menu is superb with plenty of great dishes brought to your table Thai tapas style so you can all chow down on a variety of different delicacies. It's a great way for any guys who haven't sampled Thai food before to get a real taste of some stunningly good food with a bit of kick.
The dishes on offer will be meat and vegetables (please let us know if you'd like extra vegetarian options). You can also upgrade for an extra £5 per person to include duck and seafood dishes.