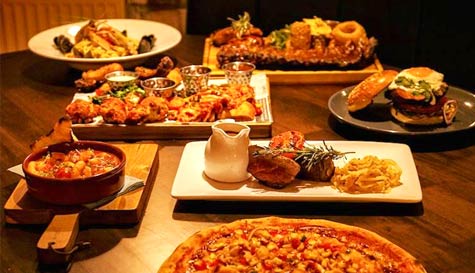 Nightmare! You've got a load of hungry stags, no one can make a decision about where to eat, you finally find a restaurant big enough and sixteen of you end up squeezed around a table for eight. And don't get us started on splitting the bill ("But I didn't actually have any garlic bread…").
No thanks. We like our meals with more beers, more flavour and less hassle. That's why we get everything sorted in advance.
Not only will your table be booked and waiting for you, you can order your meals in advance and even the bill can be prepaid.
STARTERS
Chicken Strips - With salad, chilli & BBQ sauce.
Rib Fingers - With chilli garlic bread & salad.
Chicken Wings - With sour cream/Franks hot sauce/BBQ sauce/blue cheese sauce.
Nachos - With melted cheddar, tomato salsa, jalapenos & sour cream.
Garlic Bread - With tomato salsa & dressed leaves.
MAINS
Beef Burger - With melted mozzarella, hickory bacon, BBQ sauce & tobacco onions, toasted seeded bun, lettuce, red onion, tomato & burger mayo.
Chicken Burger - With crispy bacon, cheese melt, BBQ sauce & tobacco onions, toasted seeded bun, lettuce, red onion, tomato & burger mayo.
Rockefeller Stack - Tender southern fried chicken strips, cabbage & bacon, creamed potatoes, tobacco onions & pepper sauce.
8oz Sirloin Steak - With roast balsamic & rosemary tomato, onion rings, choice of sauce, plus a side.
Chicken Sizzler - Pan-fried chicken, onions, mushrooms, & creamy peppercorn sauce.
Margherita Pizza (choice of three toppings) - Chilli beef, chicken, bacon, ham, BBQ chicken, pepperoni, jalapenos, mushroom, pineapple, salami, onion, peppers, sweetcorn.
Lasagne - With garlic bread.
Penne Carbonara - Penne pasta, bacon, parmesan & cream sauce with garlic bread.
DESSERT
Banoffee Pie - With cream or honeycomb ice-cream.
Chocolate Fudge Cake - With ice-cream & chocolate sauce.
Ice Cream - Selection of flavours.