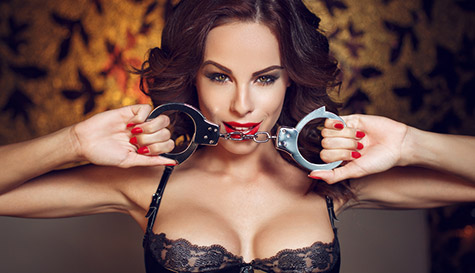 Walking to The Strip? What, like other people? No thanks! You're the Lords of the Stag. This is the groom's last big weekend as a single man and that means he and his stags should travel in style. Step aboard the party bus!
You can arrange for the bus to be waiting for you when you get to the airport, to take you to your accommodation, or it can be the way you travel from your hotel to the Strip. Taking in all the best sights and we really do mean the BEST sights!
No journey will ever be the same again, this is the transport that all other journeys will be measured against. Onboard the bus there is a fantastic sound system that will be playing party tunes to get the guys in the perfect party mood (yeah right, as if they needed any encouragement). As well as top tunes, the bus is also equipped with a bar to make sure you're all kept hydrated. And serving the drinks? How about a smoking hot topless waitress? Ok then!!!
This stunning babe will take care of all your refreshment needs. But that's not all, she'll also perform a fifteen-minute strip show. That's right, let's slow this down and think about that for a moment, a stunning strip show in the confines of a party bus… The groom and his stags will never have been quite so close to this kind of action! And it's a private show, for your eyes only and so much better than squeezing into a strip club.
At the end of the journey, you'll either be at your hotel or heading on to even more party fun, either way, the guys will definitely be smiling and you'll have proved you truly are the Best Man. It's this kind of extra touch that will elevate the weekend from 'good' to 'LEGENDARY!'.