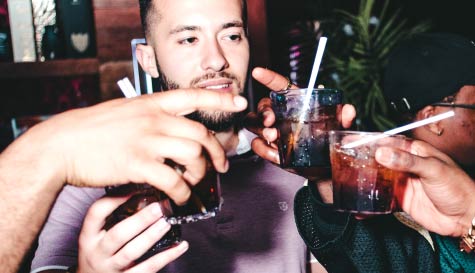 If you were to picture the perfect, truly awesome Benidorm stag night it would look something like this. One of Benidorm's hottest beach clubs with a state-of-the-art sound system, top DJs, slick, minimalist design and a reserved VIP area set aside purely for the groom and his guests so you can party in style like the stag legends you are.
This club sits on the edge of the beach, close enough to hear the waves lapping on the sand, the nights are as hot as the music is chilled. House tunes and chillout vibes from live DJs. As well as air-conditioned interiors with funky mood lighting there are places to sit outside, enjoying the air and watching the world go by. Because sometimes life really is just this good.
This isn't just any weekend, this is the groom's last hurrah so we'll arrange a roped-off VIP area for you all to create your own exclusive party. You'll also have a 70cl bottle* of your choice of spirit, glasses, mixers and ice so you can serve yourselves. It's the ideal way to start an awesome evening which could well turn into the best night out ever.
The club is ideally situated to watch the sunset, enjoying the cool sea breeze, ice-cold drinks and hot tunes. Yes, it's as idyllic as it sounds, and other party people will also be around as this is a really popular club with a great reputation. And you'll be the evening's VIPs right in the heart of it all, the perfect place to give the groom an epic send-off. We'll drink to that!
You can also mix the VIP experience with other Benidorm nightlife such as lap dancing or lesbian shows. Please ask our team for more details.
* Eight guests per bottle, local spirits only.