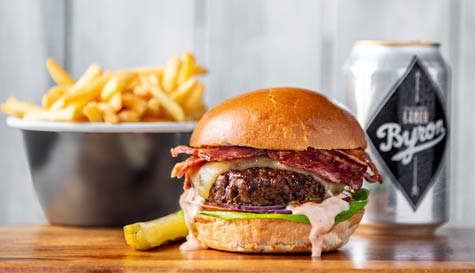 It's surprising how many stags overlook arranging somewhere for the boys to refuel ahead of their big night out. Next thing you know, you're trudging around trying to find somewhere that has a table to twenty blokes, everywhere's full, the groom is having a hissy fit and four of the guys have appeared holding a bargain bucket of chicken each. Well not anymore! With the stag party Burger and Beer Meal, you can cut out all the hassle by booking up a hearty feast so you're ready and raring for the rest of the evening. It's as easy as that!
Enjoy a delicious stag-sized two or three-course meal which includes a beer.* The meal will be prepaid, so you won't have to mess about trying to sort out the payment. And, with the restaurant's central location, you'll be right in and amongst the action for the groom's epic celebrations.
The menu:
Starters:
Halloumi fries (v) - 8 with smoked chilli BBQ sauce
Spicy buffalo wings - 6 with blue cheese dip
Mac & cheese balls - 6 mac & cheese bites with Buffalo glaze, Byron Cheese sauce, spring onions, bacon
Burgers:
Made with 100% British beef - a mix of brisket, chuck and rib cap. Each burger is served in a squishy bun with fries or a house salad with a pickle on the side.
Byron burger - Beef patty, mature Cheddar, bacon, tomato, lettuce, red onion, Byron sauce
BBQ Burger - Beef patty, mature Cheddar, crispy onions, beer onions, BBQ sauce, American mustard
Classic chicken - Grilled marinated chicken breast, tomato, lettuce, red onion, mayo, ketchup
Cheese melt (v) - Beer-battered smoked fried cheese, mustard mayo, lettuce, pickled red onions, BBQ sauce, pickles
Superfood salad (vg) - Quinoa, radish, edamame, sunflower seeds, avocado, lettuce, cucumber, baby kale, zesty dressing
Puddings:
Chocolate brownie (v) - Chocolate brownie, vanilla ice cream, chocolate sauce
Oreo cheesecake (v) -Oreo cookie base, vanilla and Oreo cheesecake topped with more Oreos
*If you decide on two courses all the stags must have either a starter and a main or a main and a pudding.