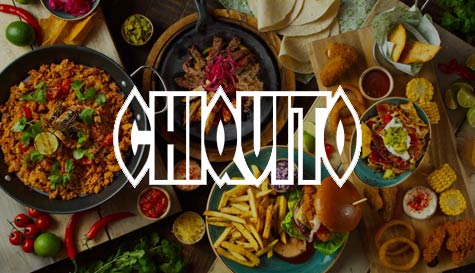 You're a best man, not a travel guide, with just 48 hours to party you don't want to waste time trying to find a restaurant that all the guys will be happy with and happens to have a table for 24 at short notice on a Saturday night (the answer is, they won't).
Let StagWeb do all the hard work for you so you can kick back and relax with the rest of the guys.
We'll arrange a table at Chiquito, a fantastic contemporary restaurant that serves a mouth-watering mix of classic and contemporary Mexican dishes such as pulled pork tortas and Southern fried chicken. The table will be booked and waiting for you, plus all the guys can order their meals in advance, you can even pay in advance so that's less time hanging around before and after the meal which means more time for the important things in life. Like tequila (well, when in Mexico).
The restaurant is also close to top bars and clubs, so you can carry on the party.
Menu
Starters
Mexican garlic bread
Nachos
Seasonal mixed salad
Mains
Classic beef burger
Southern fried chicken burger
Sante Fe wrap
Cod fingers torta
Pulled pork torta
Five bean chilli & roasted veg torta
Desserts
Ice cream trio
Pineapple taquito
Vegetarian, vegan and halal dishes available, please ask our team for details.
You can make your meal just the beginning of an epic evening. StagWeb will work with you to help build every element into your night to give the groom/condemned man the send off he deserves. You can also add Sexy Pub Crawl Babes, Comedy Club, Guest List Nightclub Entry, Lap Dance Club Entry and more. Please ask our team for more details.