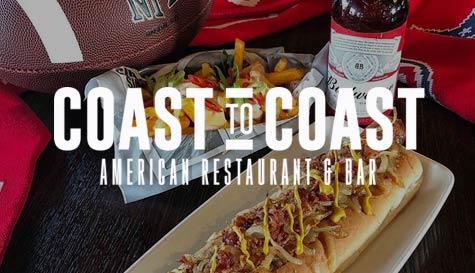 The last thing you need on a night out is to waste time, walking the streets trying to find a restaurant that has a free table for 27 stags. All the guys' stomachs are grumbling, their mouths are grumbling, and you last saw the groom's cousin wandering off in a huff in search of the Golden Arches.
You want to be a stag legend, not the cause of their malnutrition.
Don't sweat the small stuff, let StagWeb take care of the dinner plans so you can focus on having fun.
We'll arrange for your table to be ready and waiting for you at Coast to Coast, a superb American style diner offering a great selection of classic American dishes and a great range of beers, spirits and man cocktails. You can pre-order your meals and pay in advance, all you'll need is some cash for your drinks and a good appetite.
Stag Menu
Starters
Soup of the day
American skins - sour cream, cheese and chives
Buffalo bites
Mains
Fish & chips
Jumbo hotdog & chips
Sausage & mash
Mac & cheese
Margherita pizza
Desserts
Millionaires waffle
Chocolate brownie
The restaurant is situated close to top bars and clubs, so you can grab a bite to eat and get straight back to partying. It's the perfect way to have your fill, raise a glass to the nearly-wed and ensure even the fussiest of stags can find something on the menu to choose. There are also vegetarian and vegan options. Please ask our team about any dietary requirements.
Please note; Drinks are not included.