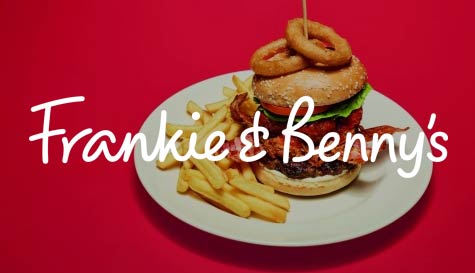 There's nothing worse than being in a large group and trying to find a restaurant with a table big enough to accommodate you all, all because one guy didn't get things booked in advance
Don't be that guy.
You can have everything sorted in advance like the stag legend you are. But it gets better, because you're a genius you aren't even doing the hard work, you're letting StagWeb do it for you.
We'll book your table
We'll arrange pre-orders for the whole group
We'll even make sure the bill is sorted for you
That means you're free to relax and enjoy your meal along with the rest of the guys.
Frankie and Benny's are renowned for providing simple, wholesome American food, and there's always plenty of it so none of the stags should go hungry. There's also a great, simple selection of all-American, classic dishes so even the fussiest stags will be able to find something they like.
Menu
Starters
Garlic bread
Chicken strips
Mains
Classic burger
Fish and chips
Margherita pizza
ABC salad
Spaghetti meatballs
Hot dog and chips
Desserts
Toffee crunch waffle
Dairy ice cream
Your table will be waiting when you arrive, your food will already be ordered and will arrive quicker than other groups (more time for drinking). This is all about taking the hassle out of planning, so you can focus on the important things. Beer, food and laughter.
Being the 'best man' means all eyes will be on you to keep the good times rolling and StagWeb are on hand to make sure you are the 'man with a plan', leading the guys to the promised land. Our team are ready to help line up an entire evening of stag laughs, from strip clubs to guest list club entry. Contact our team today and let's get your party started.