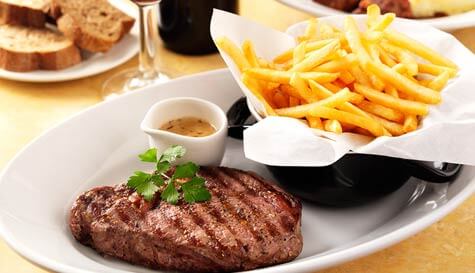 "Celebrate the groom's forthcoming Waterloo with a little je ne sais quoi!"
We believe it was Napoleon who said "A stag army marches on its stomach." Not only was he pretty handy in a scrap (although he did tend to hang back and just shout orders), but he loved his food and although it's a lesser known fact, he was a bit lethal at beer pong too. He certainly would've enjoyed an evening with the troops at one of our superb stylish French bistros.

Whether you fancy sitting down to breakfast, lunch or dinner, the last thing you want to do is waste potentially precious drinking time hunting around for a restaurant that can accommodate a large group of guys at short notice. There'll certainly be a few rumblings from the troops if you lead them on a fruitless search into yet another restaurant that only has a table for three left. Don't be that guy.

With our pre-booked and prepaid restaurants, all you'll need to do is tear the stags away from their mirrors to get them to the venue on time and get ordering. With the bill already sorted you won't need to do a Rachel Riley at the end, you just need a extra cash to pay for your drinks.

Slow-cooked duck, steak, mussels, burgers, beef bourguignon, croque monsieur, there are a host of classic French dishes on offer, along with a great selection of French wines and beers to raise a glass or two to the main man. And at the end of your meal you can finish off in style with great French coffee. "C'est si formidable!"
Please note; Menus are seasonal and may vary between locations. Please ask our team for more details at time of booking.