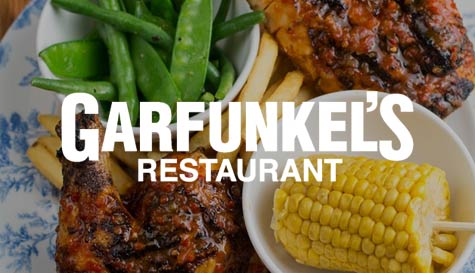 You have just 48 hours to party, you don't want to waste time trying to find a restaurant that has a table for 27 at short notice on a Saturday night (the answer there is, you won't). "Ain't nobody got time for that sh...".
Don't sweat the small stuff, let StagWeb take all the hassle away, leaving you free to relax and enjoy yourself with the rest of the guys. We'll have your table booked and ready for you at Garfunkel's. The guys can pre-order their meals from a select menu of contemporary dishes such as bangers and mash and classic burgers. Your meal will also be prepaid, so with no need to wait for a table, no waiting to order and no waiting to pay, that means more time spent at a nearby watering hole, metaphorically wetting the groom's head.
Garfunkel's is close to a number of top bars and clubs, keeping your whole night compact, no time or cash wasted on taxis. This really is a great way to get your night off to a good start where all the guys can eat, drink and be merry.
Menu
Starters
Soup of the day
Seasonal mixed salad
Mains
Sausage & mash
1/4 chicken & chips
Fish & chips
Classic burger
Penne arrabbiata
Cottage pie with seasonal vegetables
Desserts
Toffee crunch waffle
Chocolate fudge cake
Cheesecake
Vegetarian, halal and vegan options are all available, please ask our team for more details.
But as Dylan Thomas once said, "Do not go gentle into that good night…". Go kicking and screaming like a *****! (ok, so we're paraphrasing) The fact of the matter is, this is the groom's last hurrah and he deserves a proper send-off so pack the night full of stag laughs of various shapes and sizes. StagWeb are on hand to help you make the night truly legendary. You can add our Sexy Pub Crawl Babes, Guest List Clubbing, Lap Dancing, Babe Watch and more. Contact our team today and let's get this party started.