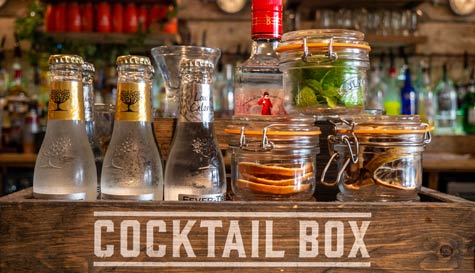 Gin, it's been the elixir of parties since before Wellington was chasing Napoleon around an ABBA record. Once the most popular drinks in Britain (it was considered safer to drink than water), Gin is still the rocket fuel behind many top nights out. And you and the guys can enjoy a party box containing some quality gins.
Inside the box, you'll have speciality gins, mixers, ice garnishes, everything to turn you into gin shaking party barmen. It's a great way to get the party started, in fact, if the night doesn't turn out to be truly legendary then it's purely down to your mixing skills, not the gin. Down the hatch!
Gin Facts
Traditionally gin is served with gingerbread.
Due to such poor water sanitation, gin was once cheaper and safer to drink in London.

In 1721 Britain consumed 3.5 million gallons and there was a working gin still in one out of every four habitable structures in London.
Gin is hugely popular in the Philippines where they drink an estimated 25 million cases every year!
Sir Francis Chichester who became the first man to sail solo around the world, credited his success to a glass of pink gin each day.
London gin is actually a style of gin and not necessarily made in London.
Tonic was made with quinine and first created as a tonic to ward off malaria. But it tasted so bad people added gin, giving birth to the G&T.