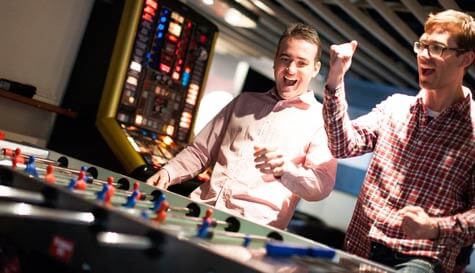 We feel your pain, you've gone on your Ibiza stag do all excited, totally pumped up for a weekend of madness and mayhem. But for the love of Gazza, you've completely forgotten it's the FA Cup this weekend, or if you've really messed up, it's the Champions League final. And you're going to miss all the action, all because one of your friends has decided to do the unmentionable and get himself hitched. What a complete and utter Ruddock!

Well don't fear stags, we've got the solution, our football special in Ibiza will see you heading to one of Ibiza's premier sports bars to catch all the football action so when you head back to good old blighty you won't have missed one shock result.

This is the perfect way for you and the boys to chill out while getting your beer jacket on (although please drink responsibly). You'll spend three hours sitting back and relaxing, eating pizzas, paella and burgers. Or alternatively, leaning forwards swearing loudly at the referee if your team of choice has just been robbed on the big screen.

With most of the Barclays Premier League matches broadcast live over in Ibiza, you'll have a variety of games to choose from as well as the option to play a few games of British pub classic darts while you get those beers down before the big night ahead. You can also catch internationals, European fixtures and any important friendlies.

This is the ultimate activity for stags that are football mad, our football special in Ibiza will surely result in big laughs between the lads as they watch some great matches in an awesome location.

Why not get involved in some football-themed drinking games for a bit of added fun? After all, there's nothing more satisfying than watching the groom do a shot of something he hates because his team just conceded a penalty!