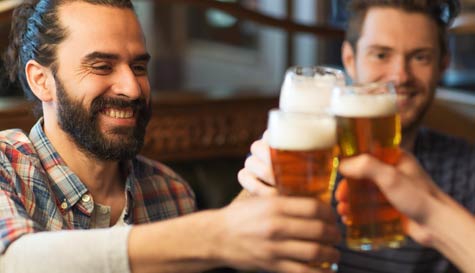 While some stags are happy nursing hangovers and suspicious bruises, we know that sometimes you want to relax, enjoy some fine dining and take in the local scenery. To that end, we humbly present the Opera, a luxurious 170ft river cruiser, that will take you and the guys on a mini tour to see the Portuguese capital like never before.
Your evening of chilled out fine dining begins with a welcome drink before you're taken to your private table where you and the rest of your stag party can make yourselves at home and settle into your role as a refined bunch of gents. Maybe even enjoy another drink, you are on holiday after all. When the cruise begins you will make your way through a delicious three-course meal while relishing Lisbon's stunning waterfront. To add to the ambience there will also be live music on board to soundtrack your evening of refinement.
After you've finished your meal you can head up onto the top deck with a drink in hand to take in Lisbon's many incredible views, the perfect opportunity to fire up the data roaming and add to your Instagram portfolio. There are few cities as downright picturesque as Lisbon so anything less than a full iCloud is a trip wasted.
As the sun sets the river cruiser will return to port where you and the boys can get back on dry land well fed, nicely tipsy and with a fresh perspective of Portugal's capital.