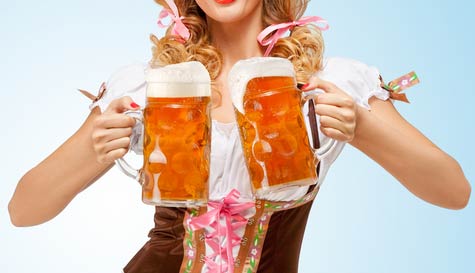 If your stag party are fans of all things beer related (and let's face it, who isn't??) then this is a superb night celebrating the world's finest beverage in traditional Bavarian fashion. A great way to start a big night out.

On arrival, you will get shown to your own benched seating area by your own waitress who will be on hand to serve you throughout the evening. After a welcome shot and stein of beer or cider - as well as table pretzels - it is time for the party to begin, with warm-up music and party games to ensure the atmosphere is electric!

With a wide selection of German beers on tap as well as delicious food options, you and your group are in the best place possible for a mammoth Deutschland extravaganza!

The headline act in the evening is the Amazing Bavarian Stompers - an authentic and hilarious Bavarian style oompah band, who will entertain you until midnight with comedy, music and some genius audience participation.

After the band has finished, the night will carries on in the safe hands of the resident in-house live DJ, guaranteeing sing-songs and euphoria (even in your inevitably intoxicated state, you will struggle to forget the amount of fun you will have!).

This unmissable package includes the following:
Entry to the show, live Oompah band until midnight.
Premium seating welcomed by your own host.
Waitress service.
1 Stein of beer or cider per person.
1 shot per person.
Bowl of Pretzels for the group.
Everybody now... Eins, zwei, drei beer!!