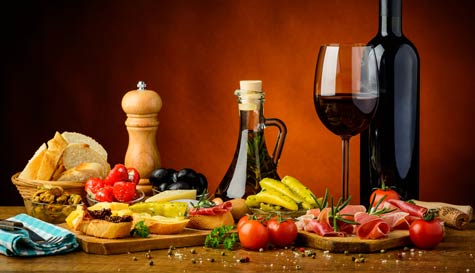 Tapas is a really sociable way of dining, loads of dishes everyone can dive into, large amounts of spice and heat, plenty of meat and fish, plus it's all served in little plates so you get to feel like giants!
But this isn't just any old tapas, as with all our experiences we've hand-picked a fantastic Spanish restaurant for you and the guys with authentic dishes and top service. Your table will be ready for you, so you and the guys can head straight in (once the groom's finished doing his hair) and order your drinks while selecting your dishes. One of the great things with tapas is that there's something for everyone, even the fussiest of stags will find some dishes he can try.
You can then eat, drink and be merry while laughing over the day's activities, winding up the groom and toasting his soon to be much suffering wife. It's a really social way to mix great food with a few drinks and plenty of banter.
Your table will be booked for you
You'll receive half a bottle of Spanish wine or three beers per person
The bill will be pre-paid so you don't need to do a Rachel Riley on the bill
All you'll need is extra cash for any extra drinks you order
Enjoy!