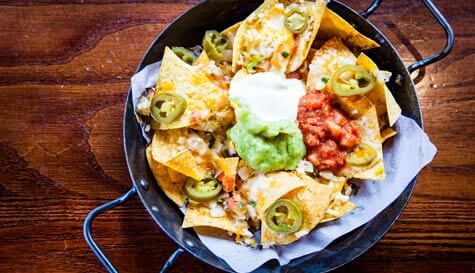 We believe it was Napoleon that said: "A stag army marches on its stomach". Not only was he a great general and brilliant beer pong player, he also loved his tucker and so would've enjoyed an evening with the troops at this fantastic South American eatery.

While predominantly Mexican in flavour, it features a wide variety of dishes from across Latin America; tapas, tacos, Mexican classics, as well as plates from Peru, Chile, and even Pele's favourite Brazilian dish, Xin Xim. And anything that gets a nod from the High Priest of football is a winner with us. It's like a tour of this culinary captivating continent, all in one sitting.

The venues are all based in great city-centre locations so you'll be nice and close to the action and the next bar or club. After all, you don't want to waste drinking time hunting down restaurants and with a prepaid stag dinner, everything will be sorted. We'll even make sure the bill is taken care of so you don't need to do a Rachel Riley while trying to work out what each stag owes. Simply bring a bit of extra cash to pay for your drinks.

Over 30 sauces and salsas are prepared from scratch every day to compliment the incredible flame-grilled meats. There's also plenty for vegetarians to tuck into so no one will be stuck for choice. But man cannot live on beer food alone, he needs a pint or two of something refreshing and you'll find a great selection of beers and spirits from across the globe. There's even a few man-cocktails if you feel like pushing the boat out (pinky fingers at the ready).

And if you've never tried Cachaca then we really think you should order a round of caipirinhas, you really won't regret it and you'll soon be doing the lambada like Maradona at a family wedding (only you won't use your hands and then pretend "It was God what did it!").
Please note: Menus are seasonal and may vary between locations. Please ask our team for more details at time of booking.