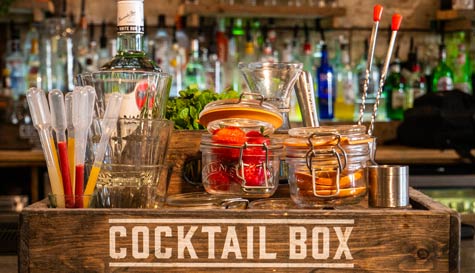 Ahh, the lesser spotted mojito, the party plumage and delicate soft call ("MOJITO!"), it can be found in many tropical party spots. But it's best found when you're mixing your own.
The mojito was actually the favourite drink of author and absolute party legend/Caribbean hedonist Ernest Hemingway. While it might have slipped onto the odd hen party menu, the mojito is definitely a man cocktail. And now you can get mixing your own.
"Yeah, sit down Tom Cruise, we got this." You and the guys will be your own cocktail barmen, with a mojito inspired box of goodies containing everything you'll need to shake up your own awesome drinks.
Bottle of Bacardi rum
Ginger
Mint leaves
Mojito instruction manual
We'll arrange for you to be added to the guest list like the stag weekend A-listers you are. Once inside a reserved area will already be waiting for you, here you'll be given the magical Mojito Box. And that's when things start to get really interesting. Along with the top tunes, great sound system, buzzing atmosphere, you'll be mixing away like alcohol fuelled alchemists to create a true party nectar that Mr Hemingway would approve of.
Gentlemen, we salute you... Cheers!