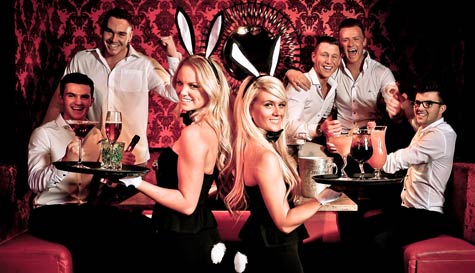 Dean, Frank, Sammy, Joey and Peter… The Rat Pack were legendary party boys who really knew how to have a good time. Back in their Vegas heyday, it would be common to see 'The Summit' huddled together at a private table, with their own bottle of scotch, a few mixers and being served by stunning bunny girls.
That is how cool a stag night should be and with StagWeb we'll make sure you get star quality treatment during your weekend adventures.
On arrival at the venue, you'll be greeted and shown to your table "Step this way gentlemen…" Once you're all seated the drinks will flow and it'll be time to 'let the good times roll'. You'll each have 2 beers to keep you hydrated (see, we're always thinking of your wellbeing) and to raise to the main man. On top of that, you'll also have a 70cl bottle of spirits (it's what Old Blue Eyes would've wanted) plus mixers to go with it.
But man cannot live on alcohol alone, not to keep a group of guys in fine health you need scenery. When it comes to feeling perky "There is nothing like a dame" to put the guys in the pink. So we'll arrange for a superhot bunny girl to serve your drinks.
Beers will be a choice of - Heineken, Sol, Becks, Stella, Carlsberg
Spirits will be a choice of - Absolut Vodka, Brugal White/Dark Rum, Beefeater Gin, Jim Beam Whiskey
Bunny girl will be - Hot!
Please note; Table reservations will be between 5pm-9.45pm.