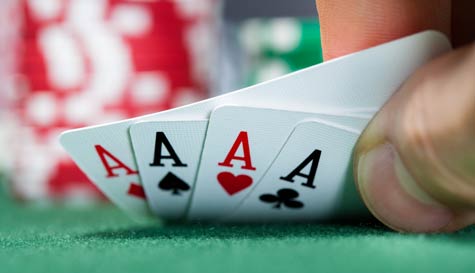 It's the groom's last big weekend as a single man, so why not give him one last look at what he'll soon no longer be able to look at while fleecing him of a few quid? "It's what he would've wanted."
During this fantastic session, everything will be taken care of giving you and the boys a top night. One of our friendly female guides will meet you and the boys at your accommodation and escort you to the casino. She'll see you all inside and all arrangements will already be taken care of. Inside you'll be greeted and shown to a private table where your own croupier will attend to your game.
But as every good player knows, poker can be thirsty work. We certainly don't want to risk you getting dehydrated so we've arranged for a private waitress to serve your drinks. We've also arranged for her to do it topless! You're welcome!
This really is a fantastic way to put a smile on the groom's face and let all the guys feel lucky enough to bet a little bit more, allowing you to win even more of their money! Well, they'd only go and waste it on daft things like alcohol and lap dances so it's probably best that you relieve them of that financial burden like the gent you are.
We can also add guest list club entry or a pre-poker dinner. Please ask our team for more details.