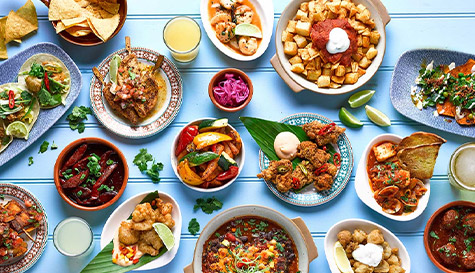 This centrally located, authentic Cuban restaurant boasts delicious feasts, fantastic drinks and an awesome party atmosphere! If the groom is mad about Latin-inspired food, fresh tapas, fine rum and possibly a cocktail or two, then you simply can't miss a stag party meal in Revolucion De Cuba. Gather the lads and head to this awesome restaurant where you can enjoy some mouth-wateringly good food and kickstart that big night out in style!
We've organised enough stag dos to know that you simply don't have time to traipse around the city looking for somewhere to eat, time is of the essence! We've also organised enough to know that, during your big weekend, tasty, hearty food is essential. Almost as essential as beer (We said almost!). That's why a pre-booked meal is ideal for stags on a mission. As your meal is prepaid, you don't have to fuss about with the bill either. This really is dining experience free from fuss.
This delicious, soulful meal will satisfy all the foodies and give you the fuel you need for your big night out. Plus, while it may feel like you're dining in Cuba, the bar is based in the centre of the city, so you'll be really close to the best bars and pubs in town. What better way to kickstart your night out than heading to this authentic Cuban restaurant, spending quality time with the lads, and treating yourselves to a true taste of Cuba? Celebrate Cuban, Caribbean and South American dishes, wash it down with a boozy beverage, and bring on the fiesta!
You can opt for a two-course meal or three-course meal (both come with a complimentary drink.)
Sample Menu
Starter:
Goats Cheese & Mushrooms on Toast
White Bean Chorizo Soup
Halloumi Taco
Jerk Fried Chicken
Chicken Quesadilla
Chicken Skewers
Beetballs
Calamari
Menu:
Veggie Enchilada
Beef Ropa Vieja
Swordfish (supplement fee required)
Halloumi Salad
Cheeseburger with a Cuban Twist
Butternut Squash & Black Bean Chilli
Paella de Cuba
Desserts:
Chocolate Brownie
Pineapple Cake
Chocolate & Raspberry Slice
Drinks:
House wine
Bottle of Peroni
Single House Spirit & Mixer
Hot or Soft Drink